The power of money
Direct Payments: what providing families with money to support children's wellbeing during the pandemic tells us about agency, dignity, power and relationships

The 'cost of living crisis' in the UK has once again put into sharp focus the realisation that the vulnerability of individuals, households and communities to the changes in economic forces and fortunes goes far beyond the individual choices we all make for our lives and livelihoods. In the last few weeks and months, announcements from governments around the world have centred on what to do about the impact of local fiscal policies and the global cost of rising energy prices, political and economic instability on the so-called most 'vulnerable' in society.
Increasingly, campaigners, advocates and progressive governments are looking to different structural models for public finance. Momentum is gathering. From a principle-based 'wellbeing economy' to 'Doughnut Economics', how a fairer economy could be designed is getting a lot of attention. While the need to shift structural factors is essential, creating greater equity will require action in the here and now. Money matters. Having the means to pay for the necessities of life that ensure you and your loved ones are safe, secure, warm, fed and healthy, matters. These are human rights none of us should ever take for granted nor ever be forced to lose or risk.
Over the last three years, having money in your pocket to pay for what you need has been recognised by even the most fiscally-conservative governments. In the UK, there have been furlough payments during COVID-19 public health lockdowns, increases in social security payments, and now, 'cost of living' payments to help every household with their rising fuel bills.
The latest public proponent of this 'cash first' approach is the Scottish Government. Facing a mounting cost of living crisis, it is clear that getting money into the pockets of those who need it most is essential, and in Scotland, the Child Payment has been extended and increased.
This concept is not new: attending to the most fundamental basics is something the voluntary sector, researchers and policy advocates have long made the case for. It underpins the thinking behind the Universal Basic Income movement and the 'Housing First' approach to homelessness. Such actions do not provide solutions to society's challenges but prepare the ground from which solutions are possible by providing the core requirement – income, a safe place to live - from which further support can be built.
The key factor is the agency such actions create. A shift in the power dynamics from the dependent, the 'client', the 'service user', the 'recipient', enables greater opportunity to safeguard the rights everyone has.
It becomes less possible to create the circumstances that build trust and effective relationships where there is a dependency culture based on criteria and judgements of others. 'Cash First' and 'Housing First' approaches recognise the need to address this imbalance and work with people to support what they need.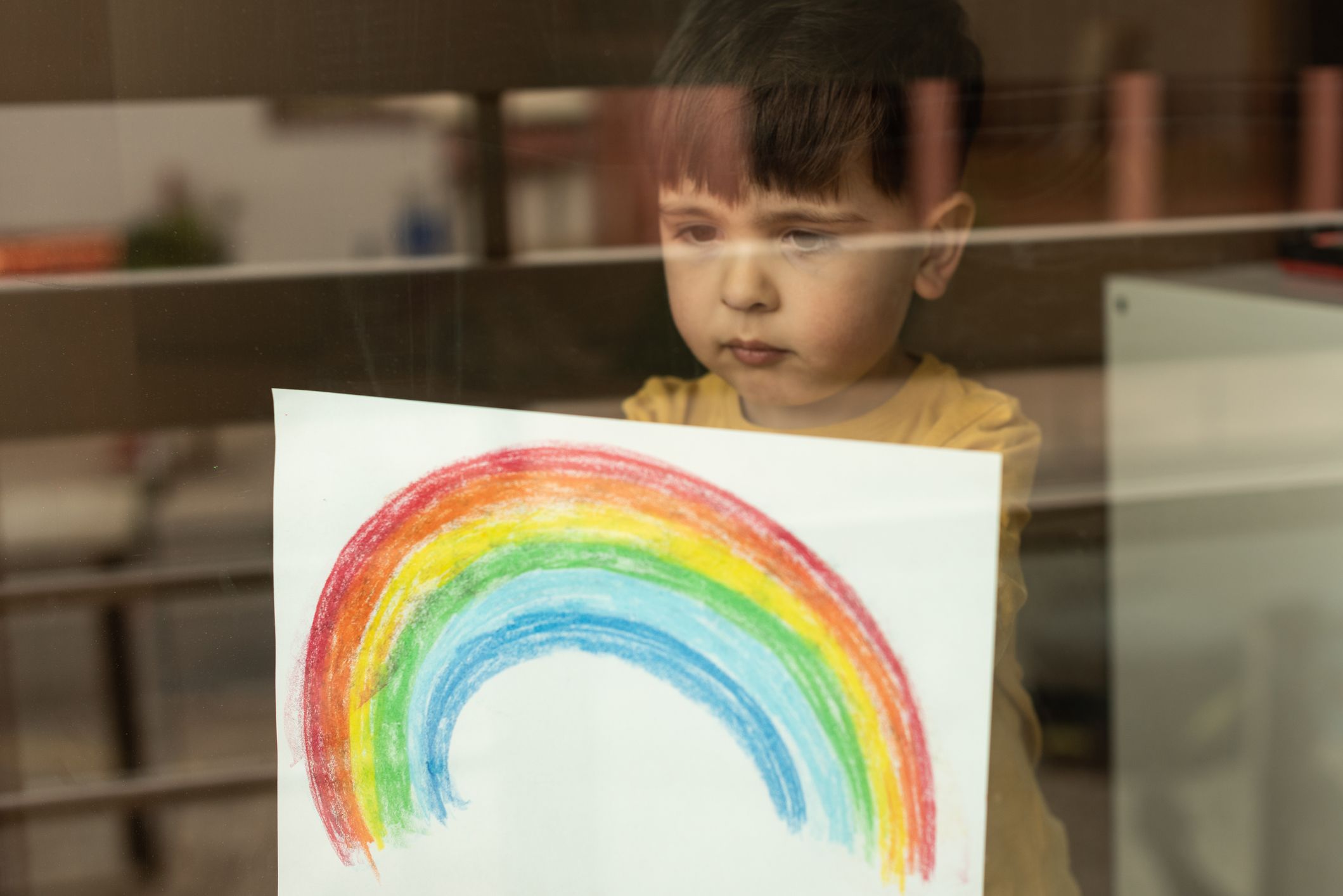 Changing the dynamics
One local authority in Scotland already pursuing a 'cash first' path was North Lanarkshire Council, as part of its North Lanarkshire Tackling Poverty Plan. As the COVID-19 pandemic wore on and Scotland experienced another lockdown in January 2021, the social work team decided on a new way to best support the children and families in their area. They wanted to distribute directly to families and young people the 'Winter Support and Social Protection' funding the council had received from the Scottish Government specifically for promoting children's wellbeing and improve outcomes during the pandemic.
The intention of the funding from the government was to provide financial relief to enable families and young people identified as "vulnerable" during the pandemic to use the funds to enhance the wellbeing of children.
North Lanarkshire felt this was an opportunity for people working in their Education and Families teams to test out a new process of providing direct payments to young people and families. They hoped that any learning from this project, including about the impact of the funding, and the process used to give money directly to young people and families, would further inform the development of strengths-based and collaborative approaches to support families locally.
Some parameters were quickly determined: in line with the intentions of the funding, the funding would be for a one-off expense, entirely focused on enhancing a child or young person's wellbeing. The amount of money provided to the young person or family would depend entirely on their individual circumstances and needs, and the expenditure could cover more than a single purchase, for example, a series of tutoring sessions.
The team needed to design and set up a framework for giving these direct one-off payments to young people and families. They turned to CELCIS, the Centre for Excellence for Children's Care and Protection, to support them to develop the framework and then evaluate the project to learn about the process, what worked well, and how to strengthen such an approach as a model of delivery of providing needs-based financial support. A group of strategic and locality managers were brought together to design the framework, with the process and paperwork then sense-checked and tested out with some social workers from a locality team. The payments were initially offered to young people and families supported by social work teams to test out the process and to assess the demand for the fund. After a short period of time, applications were also invited from schools.
Once the council understood the level of demand, more funding was added - from the council's Education and Families core budgets which target support for families at particular risk of hardship - so there was £1.5m to draw from.
"The approach taken very much emerged from the ethos adopted by the whole council as part of our Tackling Poverty Plan. We're now building on this approach which is based on trust and relationships." - Andrew Gillies, North Lanarkshire Council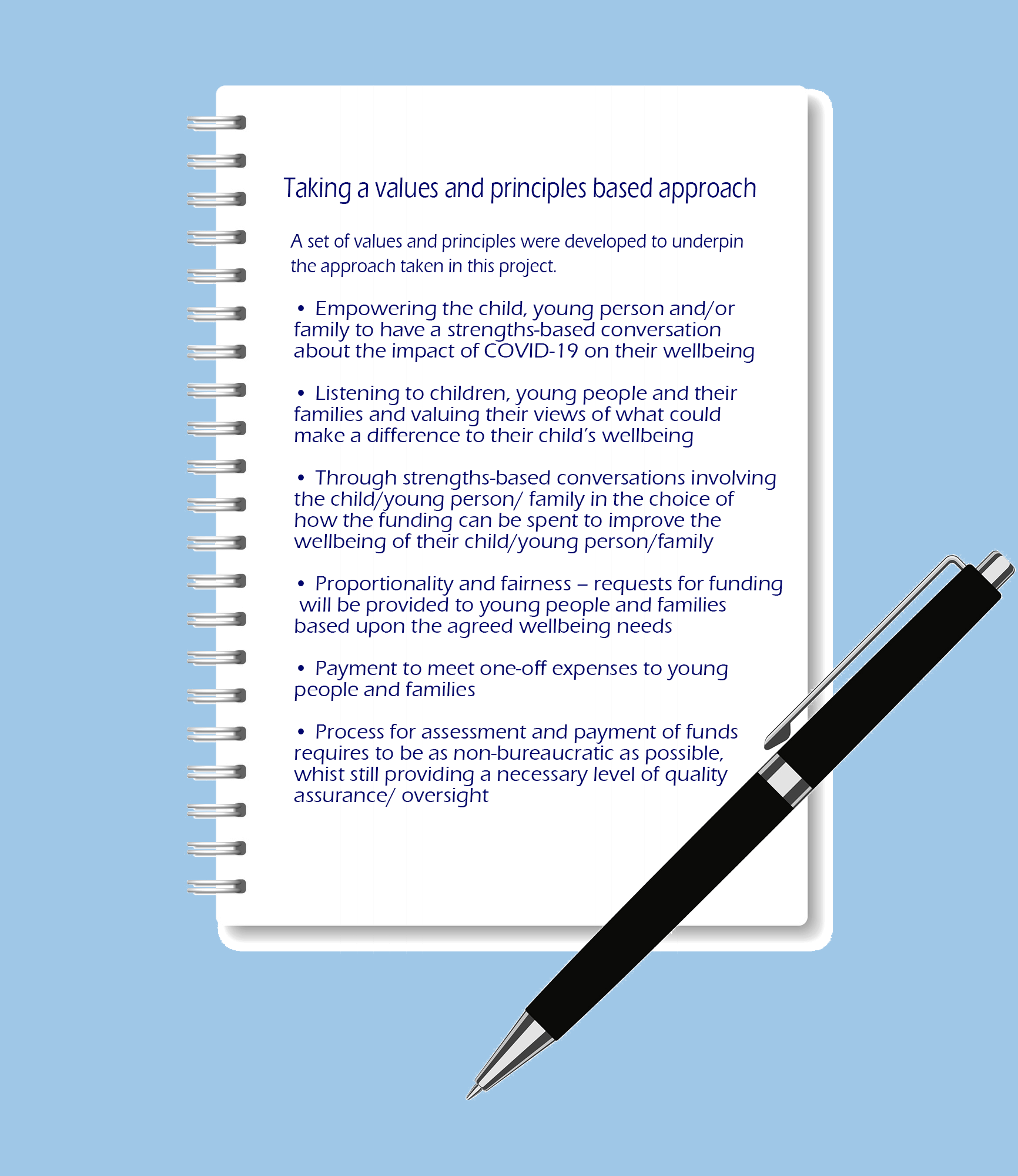 Almost 2,000 families were helped under this scheme, supporting more than 2,000 children and young people. The average spend per family supported by social work staff and services was just over £800, and £735 for the families support by education staff and services.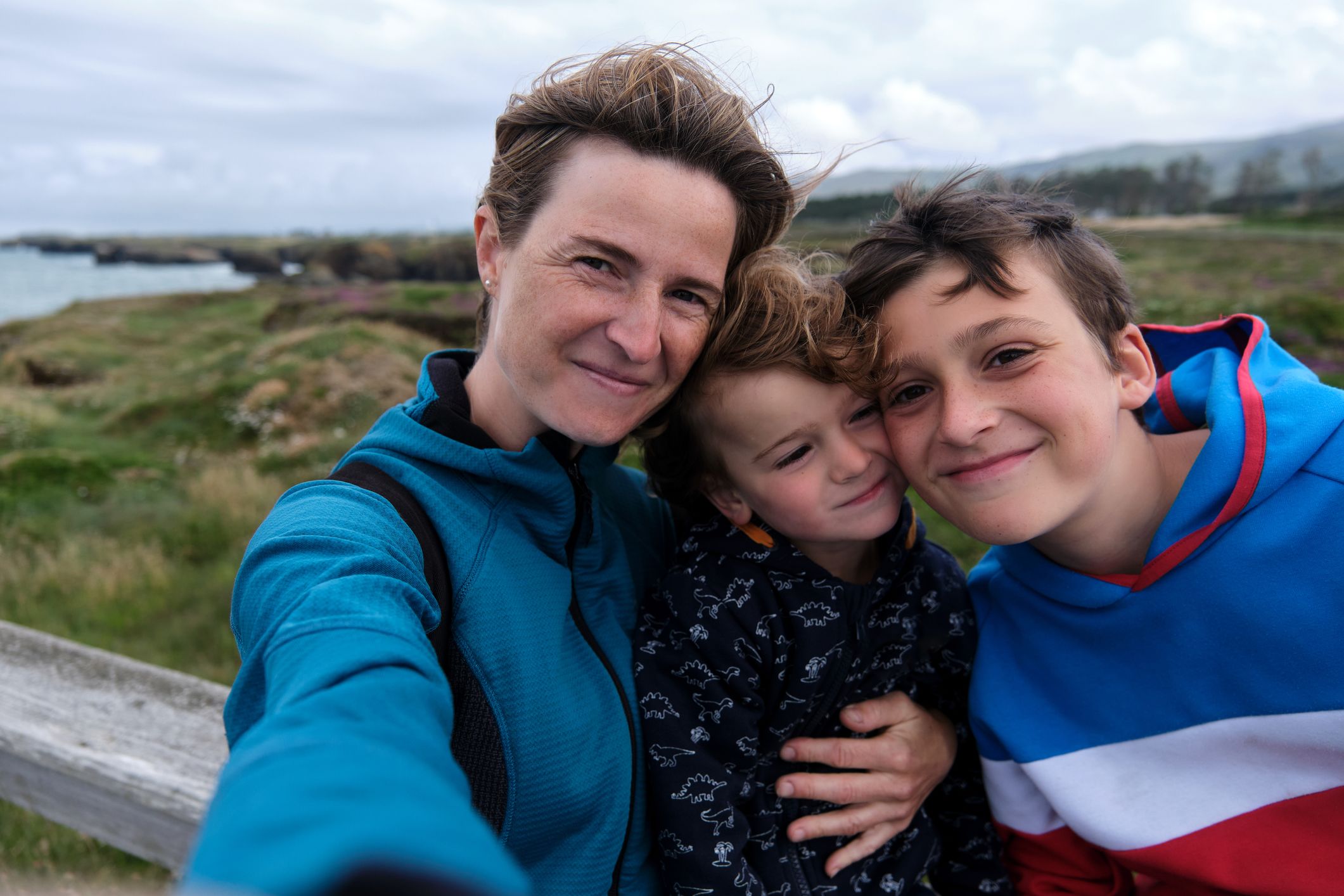 Building relationships
The funding was available for support that would benefit children and young people aged from birth to the age of 24; or, if a young person had experience of care, to the age of 26; and their parents and carers. This included children, young people, and families where children were living at home or with kinship carers; and/or where children had been identified as being "vulnerable" during the pandemic by head teachers during the period of school closures; and/or where families or young people were homeless.
Working with every family or young person to explore their own ideas for possible support to meet the wellbeing of a child or young person was essential, so guidance was developed to help staff have these conversations. The conversations were encouraged to be places in which to think creatively and to openly consider ideas for how the funding could be used help. It was a priority to understand the young person or family and enable them to make choices. This opened up a conversation with the child, young person or parents about the impact the pandemic was having on a child or young person's wellbeing.
It became clear to the families and young people that the funding could be used for a range of much needed things, that what was 'on the table' was different from perhaps what they'd had support for before. From food to therapy, toys and bedroom furniture to car and garden repairs, and they could pay for household expenses including bills too. With young children growing, many needed new clothes and shoes after the lockdown and for some children and families who had been so restricted to their homes during the lockdown, the funding could also support some time away on a day trip, a weekend away or a caravan holiday that a family couldn't otherwise afford.
These conversations enabled everyone to come to an agreement about what amount of funding would be applied for, and whether there were other funds that could also be considered, such as the council's Fuel Poverty Fund, to provide financial support. Where there were funds more applicable to a child's needs, families would be signposted to that support too. Working with the council's Financial Inclusion Team was very much part of the approach the social work team took.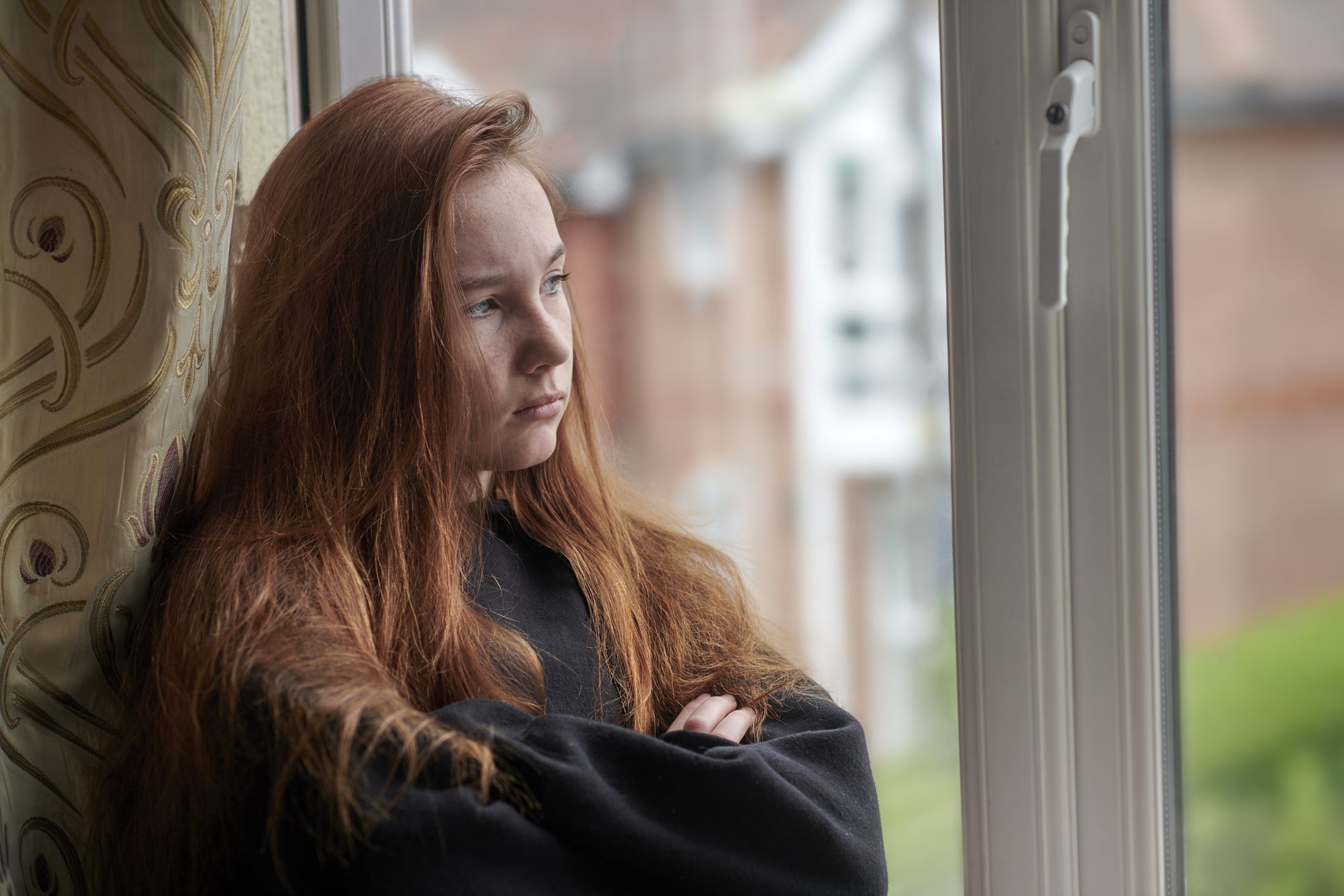 Practical support
This 'direct payment' approach required a sensitive understanding of the family's or young person's financial arrangements. For example, providing the money directly into people's bank accounts could result in banks using that money to pay off overdrafts, rather than families being able to use this money specifically for its intended use. It was also essential that staff were able to reassure families and young people that receiving this one-off funding would not negatively impact on any welfare payments they might be receiving. Again, individual circumstances were key, so an understanding needed to be reached about how the money would be given to the young person or family. For some, instead of a transfer to a bank account, funding could be given in cash, if that the best route to support them.
Improving mental health and wellbeing
This financial support was able help children feel happier and have more confidence. A number of families used the funding to make their gardens more secure so that their children could play outside. One child was now spending hours having fun on her swing; another family was able to buy bikes so their children had a new activity which could also give them headspace; and young person was able to get a digital tablet so that they could read books, listen to music and FaceTime their family.
Many families had experienced financial difficulties as a result of the pandemic and this financial support meant that some of these pressures could be reduced, at least temporarily. For one single parent who had not been working for nearly a year due to the COVID-19 pandemic, the support helped them to get back on their feet and reduced their stress.
Some families used the money to improve basic home conditions. For example, buying suitable beds. One family, used the money to update the house and the children were able to go back to live at home.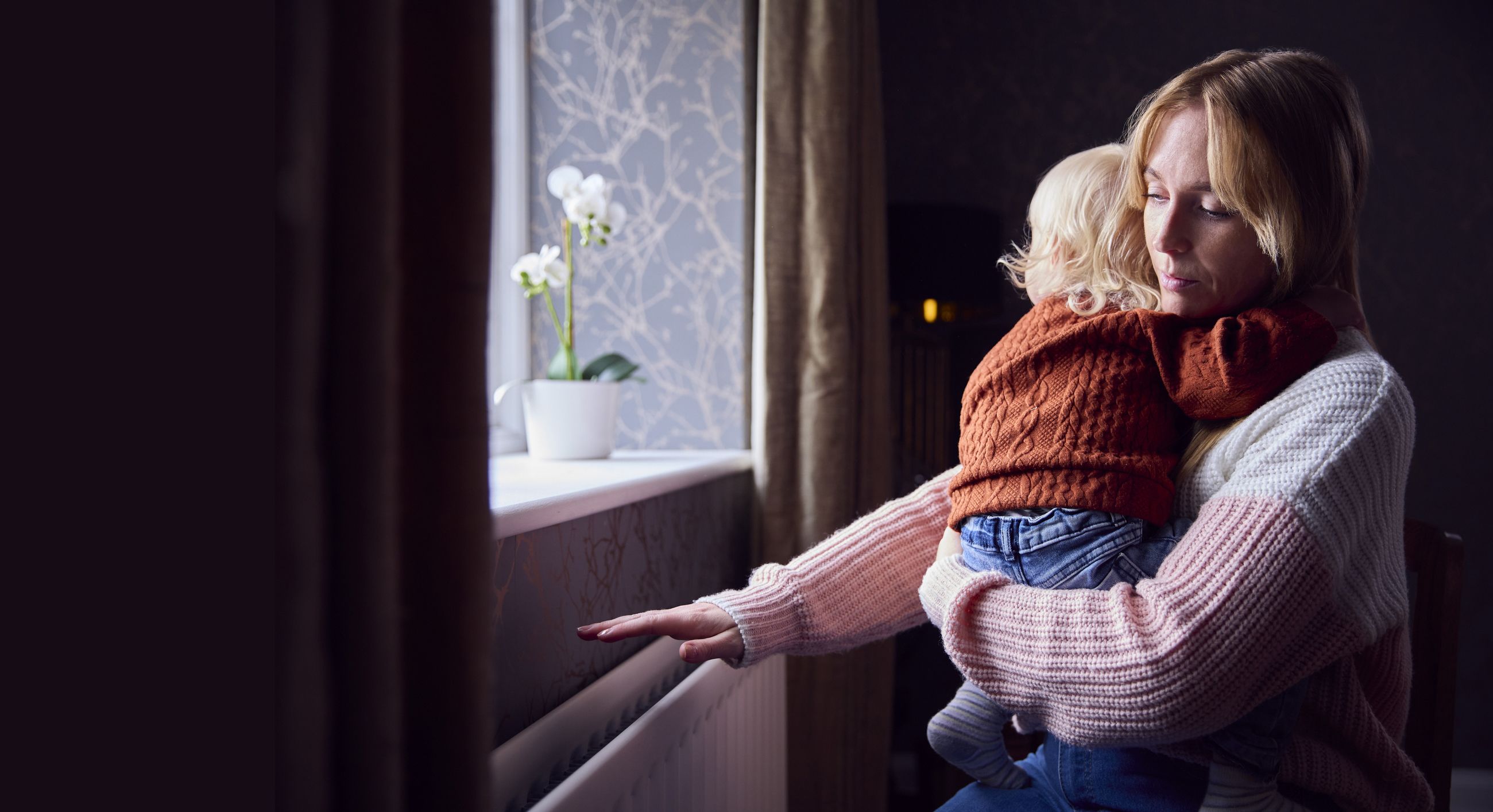 Families and young people choose what worked best for them. Conversations opened up about what was most needed and finding solutions. Children felt listened to. The young person who is really into cycling was able to purchase a robust bike, something they thought would be out of reach or seen as unimportant. One family improved their garden with new garden furniture and a trampoline, giving them extra space for family and friends to spend time together and began growing vegetables. Doing things they would not normally do was also a theme in the feedback from families, like a visit to Edinburgh Zoo. A number of families were able to buy the specialist toys for their children which they could not have afforded otherwise, and one school noticed an increase in the number of children cycling to school every day on their new bikes.
Learning with the help of a tutor
New things for the garden means more time together with friends and family now
Driving towards more independence
Days out and new experiences
Toys to help learn and grow
The power of relationships
The feedback from children, young people, families, and practitioners about the process of receiving this funding and the benefit of the funding itself, has been extremely positive. It has felt empowering for both families and practitioners and has led to creative practice that has improved the wellbeing of many of North Lanarkshire's children and families.
Asked about their experience of this way of getting support, some families and young people really felt that this had improved their relationship with their social workers, and social workers very much agree: "It was really good for building a relationship with the family, this was a wee bit of sunshine amidst COVID."
What worked well was ensuring an opportunity to have children, young people and families think about what would make a difference to their wellbeing, having a choice about how the money would be spent, being listened to and valued, and being trusted to have the payment made directly to them without the need for proof of purchases. Families found solutions for themselves.
The council's teams needed to be supported to be able to have empowering, strengths-based conversations with young people and families and working in a different way to how this supports children and families, and North Lanarkshire found a way to do this.
In the evaluation of the project, the staff involved reflected that the lack of bureaucracy aided a fast, efficient process and the approach let families think outside the box around what might help.
What mattered most was shifting that balance of power that exists between people who need support and those responsible for giving the support: "Families felt that they were being trusted to manage the money and not being judged, it helped to have really positive interactions with children, finding out what would help their wellbeing. Children were then keen to show me what they had bought."
Now the council is using the learning from this model to shape how their children and families' social services can take forward the work they are doing with families in different ways. This summer (2022), families were offered support through a similar approach to help them with the additional costs families face during the summer holidays; and it is also being used as part of North Lanarkshire's Whole Family Wellbeing Fund work which is focused on delivering on The Promise of the Independent Care Review. Building on this direct payments experience, financial costs support will be an element of understanding how budgets and budgeting can be part of the family group decision-making process.
With many wondering how to support families this winter, just as the cost of living crisis hits more deeply, this example of how a direct payment approach can work in practice shows what is possible when creativity and flexibility is applied to the most challenging of circumstances. There are different choices that can be made in how to use public funding, choices that shift the balance of power to put respect, relationships and personal choice first.
"Lovely to open a conversation with 'what would make a difference?' " - social worker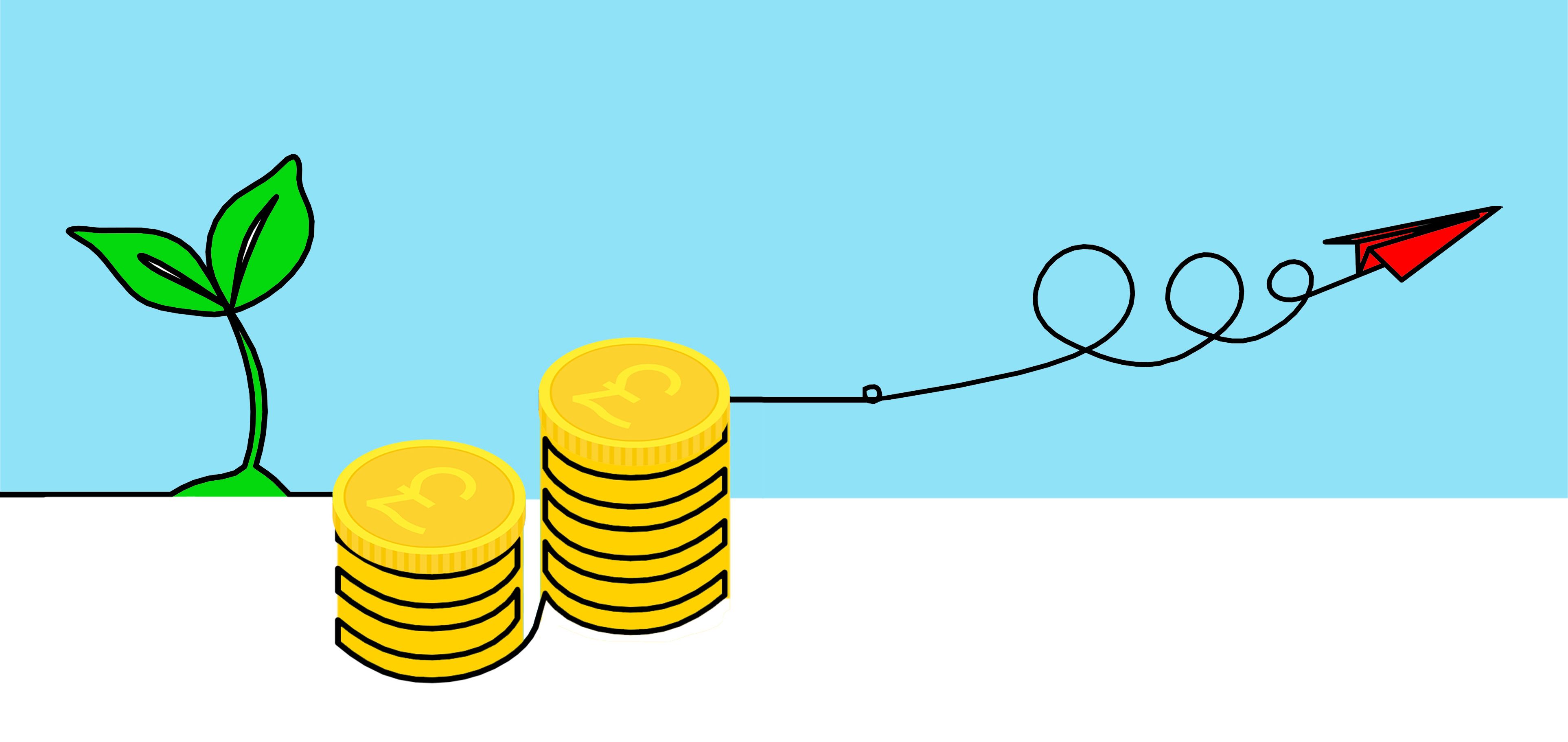 Published December 2022