We Are Citizens!
How a group of care experienced young people created their own professional theatre company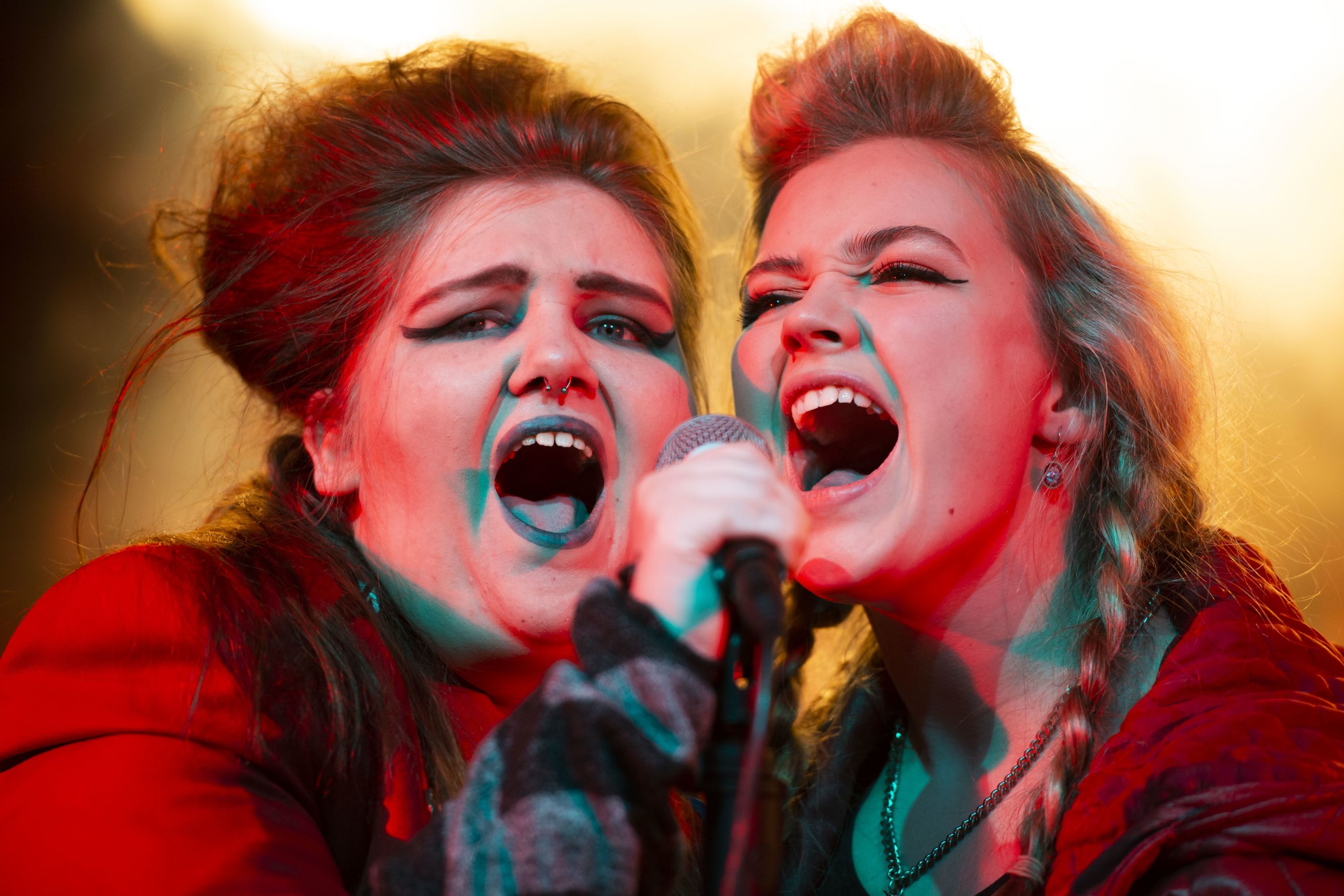 "We don't feel like a group of care experienced actors, we are just a group of actors, like a theatre company."
It now seems a lifetime away. Before the COVID-19 healthcare crisis the theatre scene in Scotland was vibrant. As well as the Edinburgh Festival, which is the world's largest arts festival, there were over 100 Creative Arts organisations producing imaginative and captivating work across the country. It nurtured home-grown and awarding-winning playwrights, screenwriters, actors, producers, directors, designers and a talented production workforce, and also attracted creative professionals from around the globe. It inspired those studying at Scotland's drama schools, colleges and universities who wanted a career in all aspects of the performing arts.
This melting pot of talent and opportunity produced hundreds of plays every year, which explored, challenged and provoked their audiences on all sorts of issues - economic, social and political. But whilst diversity and voice had free rein, there were, and are still, examples of lived experience that are under represented. This is important if the arts are to be truly open and accessible to all, and if they are to reflect, inform and entertain society as a whole.
Care experienced young people grow up facing general challenges - family upset and feelings of abandonment, for example - and also challenges that are personal and unique. There are many plays, books and stories with characters who have lived in care, been adopted, fostered or cared for by relatives on a kinship care basis. These range from classic examples like Annie and Oliver Twist to Harry Potter, Superman and Dr Who. More often than not, these characters are exceptional - either heroes or villains - and this can distort people's perception of care experienced young people and also the self-image of those who have experienced care. So the value of a group of care experienced young people being able to perform, write and create their own stories with their own voice is enormous.
In Scotland, there are around 15,000 children and young people in care and many people who have care experience. The strengths, capabilities and resilience of these young people can be extraordinary. Too often care experienced children and adults face barriers and stigma. And we see the impact of this in educational outcomes, employment opportunities and over the course of their lives. Their experiences and opportunities are not the same as their peers.
An idea for a professional theatre company of care experienced young people in Scotland was developed by CELCIS and the Citizen's Theatre in Glasgow, through an initiative funded by the Life Changes Trust. This initiative would explore how the performing arts can create a positive means of expression to showcase and celebrate the talents of care experienced young people and create new spaces for discussion and debate about the issues that matter to them. 
For the young people involved in this project, this would be a new opportunity to be listened to, valued and respected. And it could provide them with the skills and confidence to pursue their passions, and a career in the arts.
Louise Hill, CELCIS' Evidence and Policy Lead, believed in this potential from the very start.
We Are Citizens!
The aim of the initiative was to help care experienced young people participate in the theatre and nurture their talent and enthusiasm for the creative arts. This included providing a new opportunity for them to improve their skills, their understanding of theatre, to enhance their future employment prospects and their artistic development.
But this initiative was not just for the benefit of the actors. It was also important that the audience should gain an insight into the lives and experiences of young people that would help to challenge negative attitudes towards care and care experienced people.
An evaluation of the initiative was undertaken by CELCIS to understand how young actors felt about their experiences of the development of the new We Are Citizens! Theatre Company throughout its journey, and the stage production. CELCIS also sought the views of the Citizens Theatre staff and the audiences.
Martin Travers (playwright and producer, Citizens Learning), was immediately receptive to the idea. He and his colleagues put together a programme of development that would bring the idea of the WAC (We Are Citizens!) Ensemble to life. The first phase involved running taster workshops with young people (aged 18-25) for them to see what the initiative was all about and explore aspects of theatre making at the Citizens Theatre studio. The young actors were not just attracted by the potential to develop their acting skills and put on a production. They also recognised it as a platform to give the people of Glasgow and beyond a better understanding of the talents, lives and experiences of young people, helping to challenge negative attitudes.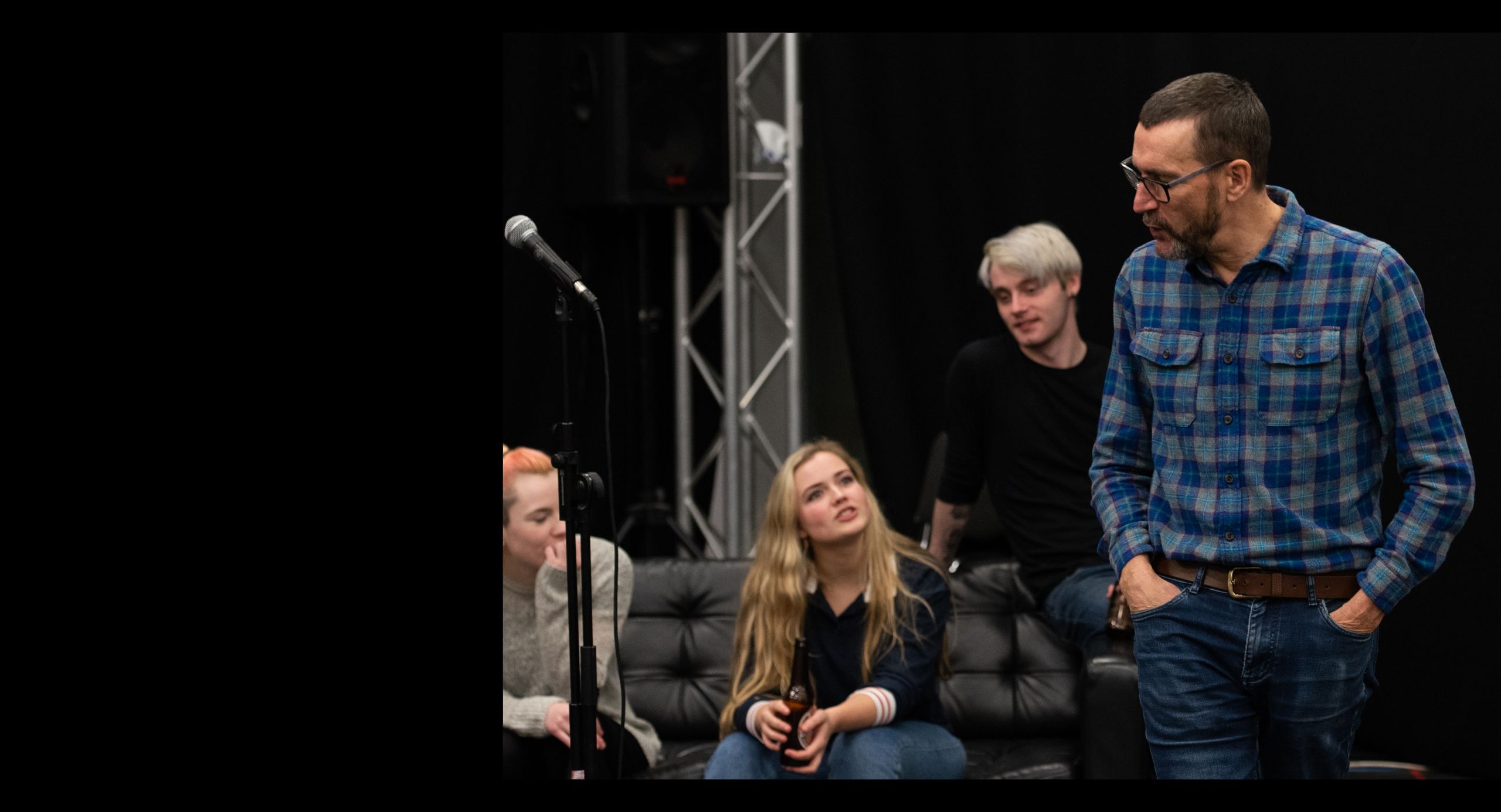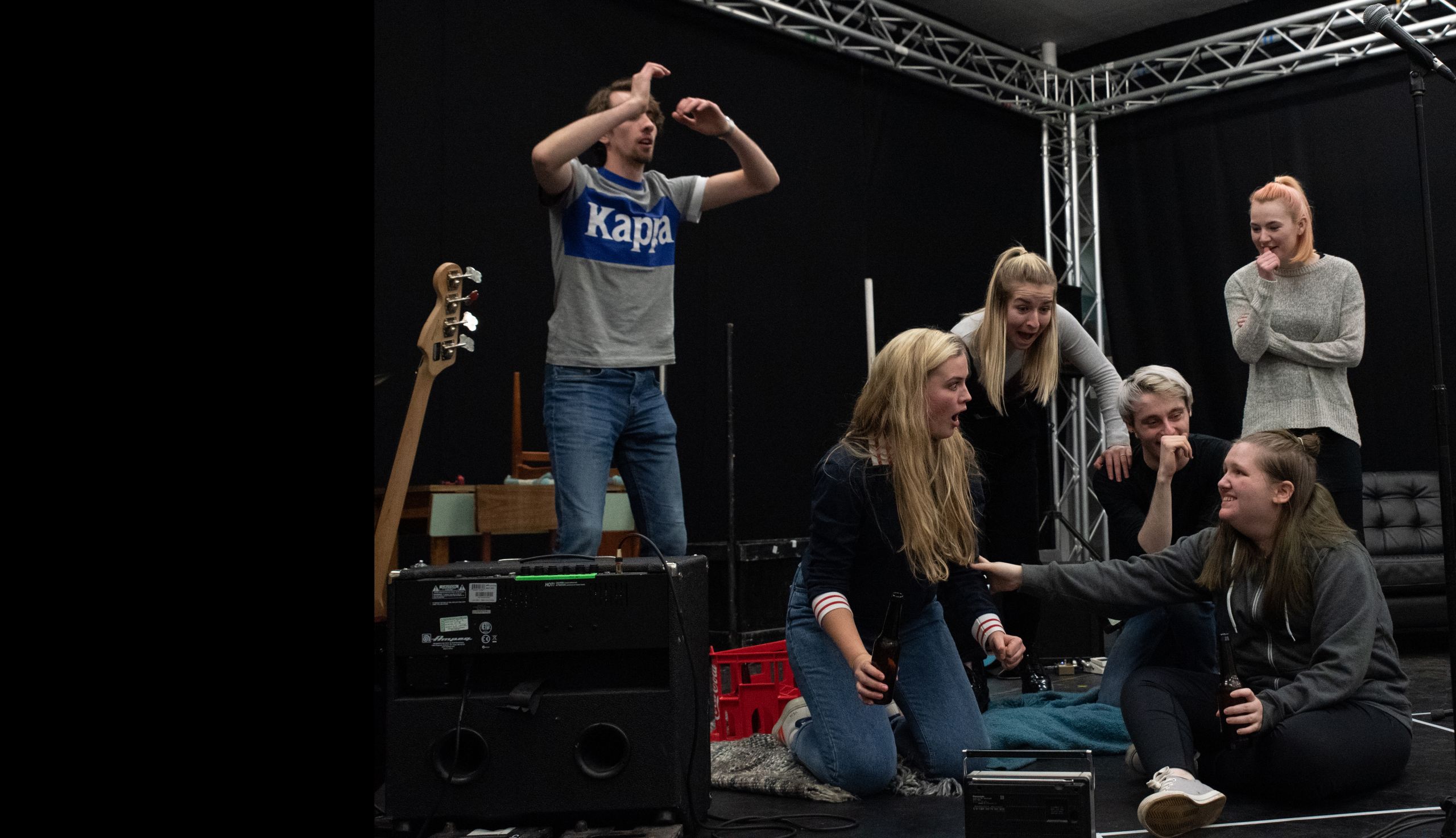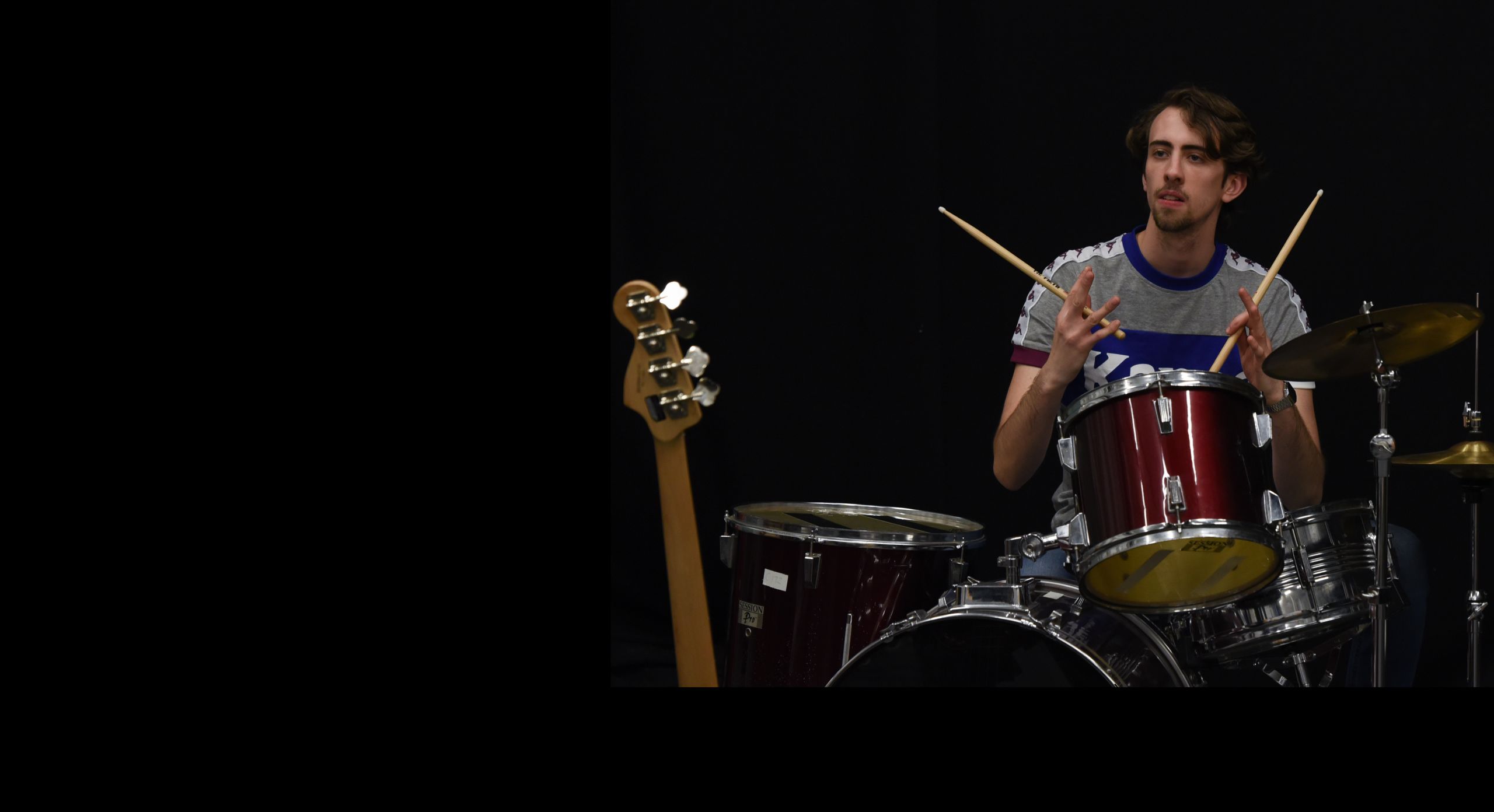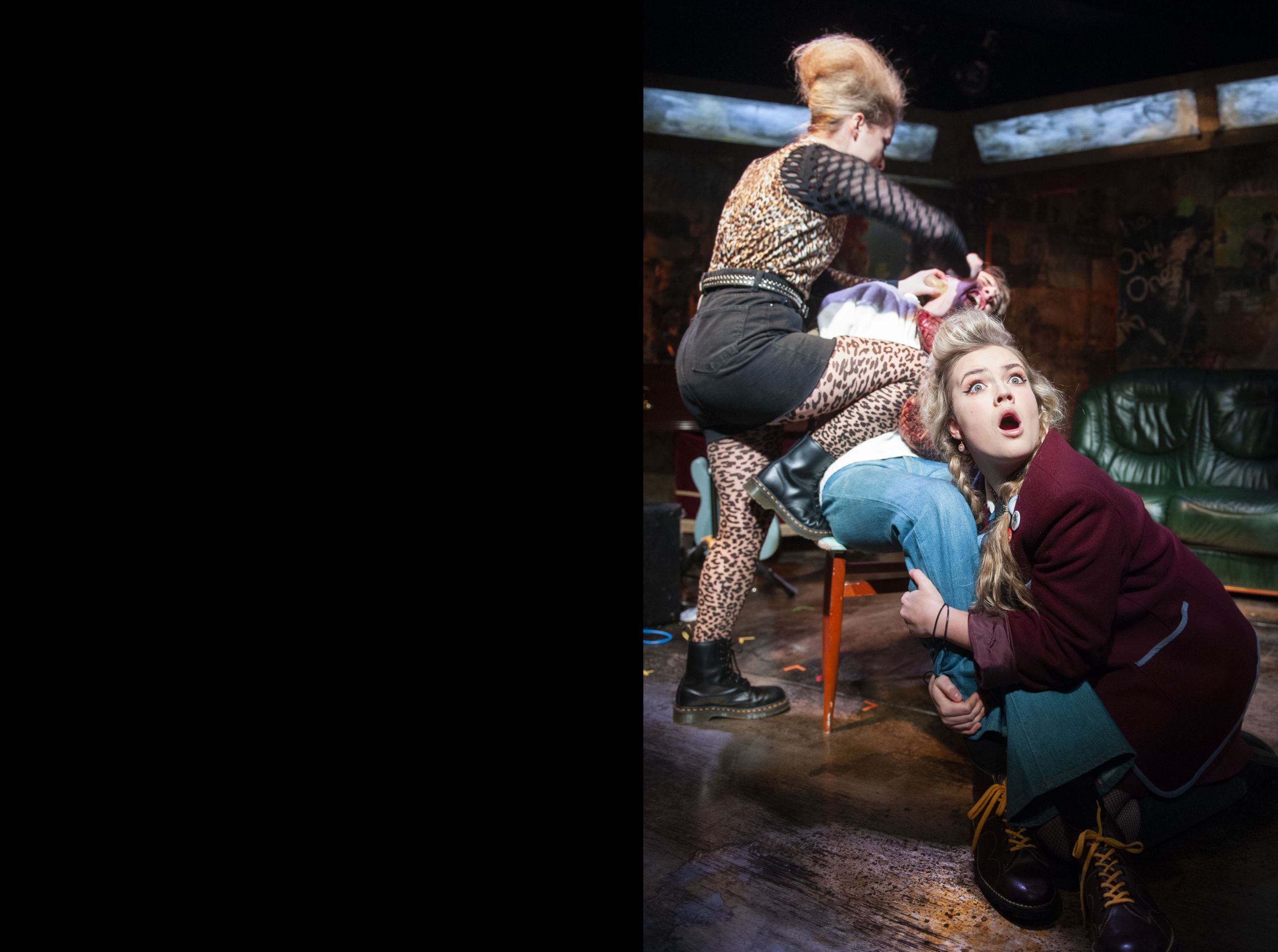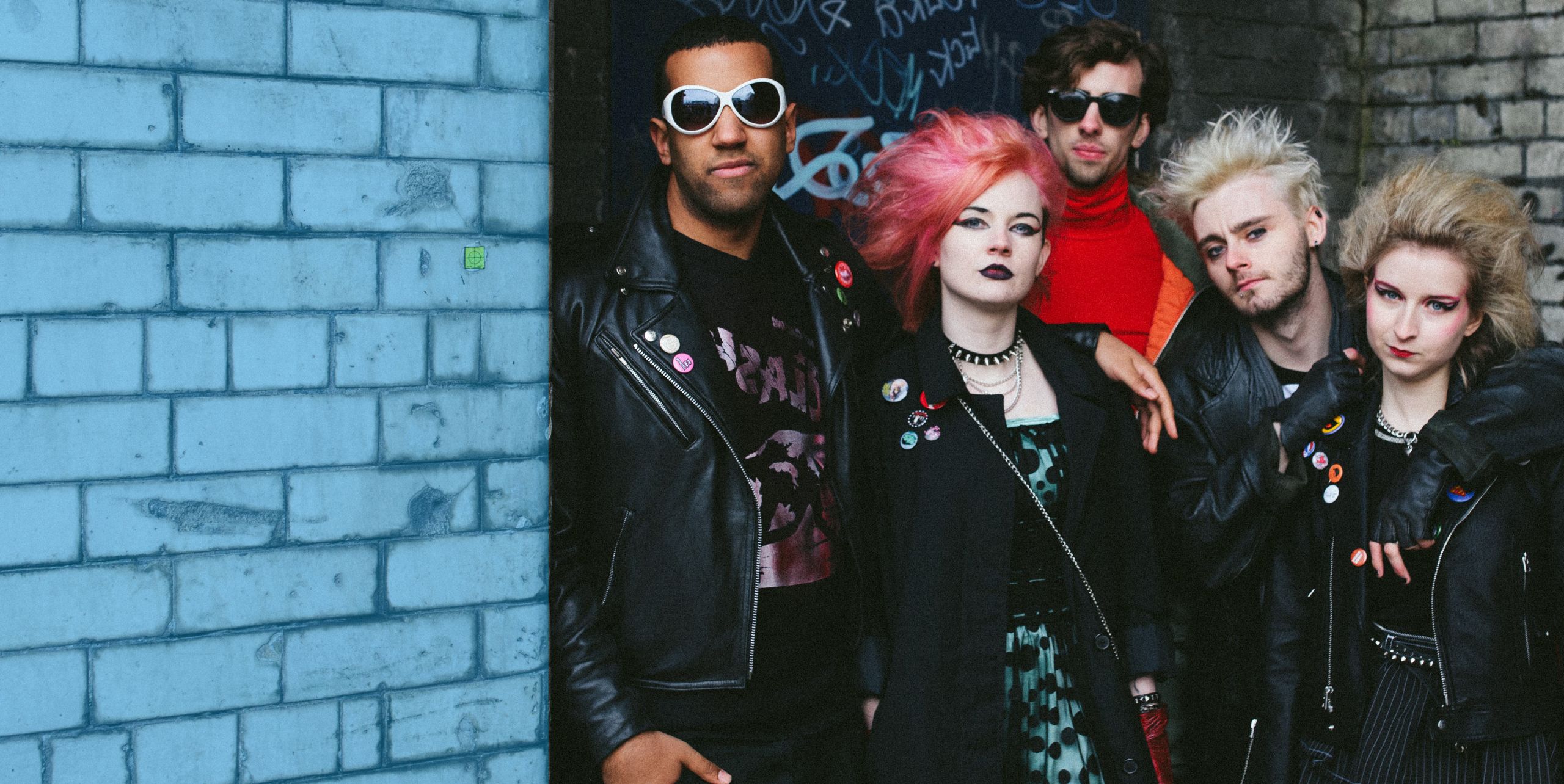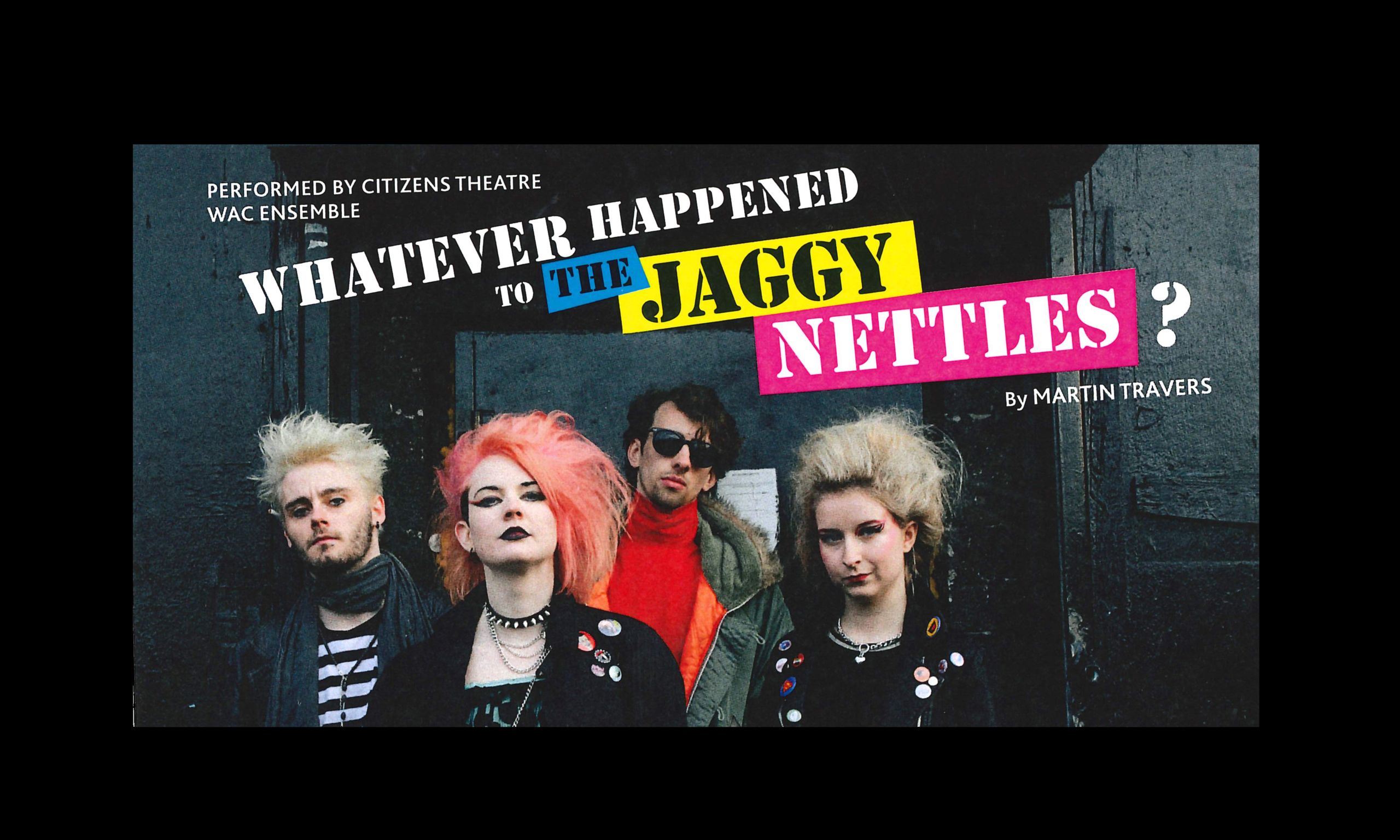 'They value us as individuals, for who we are'
One of the main challenges for these young people, was confidence. Stepping onto a stage would be daunting for anyone, but care experienced young people also often suffer from a general public perception that blames them - at least partially - for their childhood experiences. The trauma that they have experienced and their vulnerability can stigmatise them in the public mind. To stand on a stage and act in front of an audience requires a lot more self-confidence than usual. One young person commented: "to walk into a room with people they don't know can be immense".
In addition, the creative arts can be a difficult and precarious industry to be in at the best of times, and the challenges of financial insecurity, childcare costs and family or relationship challenges can be even more pronounced for people who don't have a strong and wide safety net of family and/or friends. It was especially important that the initiative was able to support those taking part; costs were reimbursed and free tickets were provided to other theatre productions to help the young actors deepen their exposure to performance and production.
The feedback from the participants was very positive. They particularly appreciated the way they were welcomed and helped by the Citizens Theatre team. As one young member pointed out: "they value us as individuals, for who we are".
However, not everyone who came to the workshops were able to continue. Some were hampered by the personal challenges that they were dealing with at the time. The Citizens team ensured that an experienced community drama worker was available to offer emotional support to everyone. Later, as the ensemble and play took shape, Guy Hollands (Director) and Carly McCaig (Ensemble Manager) worked hard to offer positive creative spaces in which the young actors could express themselves. This proactive approach to supporting participation helped to build trusted relationships.
"Fifteen minutes ae fame's better than instant oblivion."
And so a small company was created and worked with playwright Martin Travers, to inspire and develop the story, characters and script for the WAC ensemble's first play, Whatever happened to the Jaggy Nettles?  
Whilst is was a huge task for the We Are Citizens! company, Chloe Wyper (Lori Logan), Genna Allan (Bonnie Ann Clyde), Shannon Lynch (PK Kelly), Cameron Macleod (Timpani), Kieran McKenzie (Mark Conti) and Allan Othieno (Jonny Silver) all thrived on the hard work.
The production created scenes of the late 1970s and early 1980s in Glasgow, with unemployment and violence prevalent, and centres on a groundbreaking punk band, The Jaggy Nettles. The play follows the band as they struggle to get recognition and fight amongst themselves. Featuring live music, original songs and an abundance of Glaswegian banter, the play is a story of friendship, deception and the power of punk.

"YOU'LL NIVER DAE ANYHIN WI YER LIFE!"


Mark's father, Whatever Happened the Jaggy Nettles? Sc 2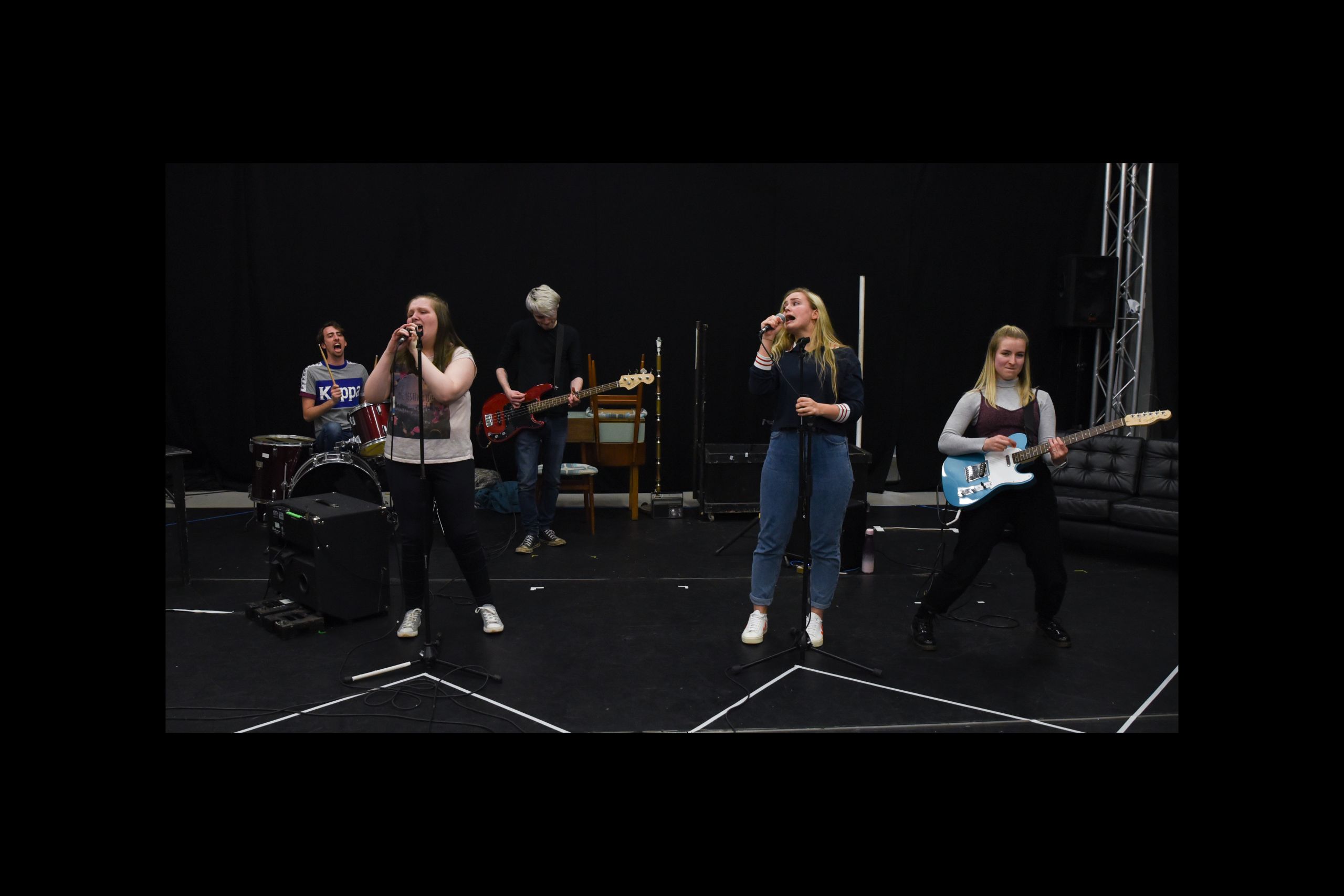 During rehearsals, the company were interviewed by Bronwen Livingstone from BBC Radio Scotland. They were asked how being in care had affected them and whether they felt a common bond.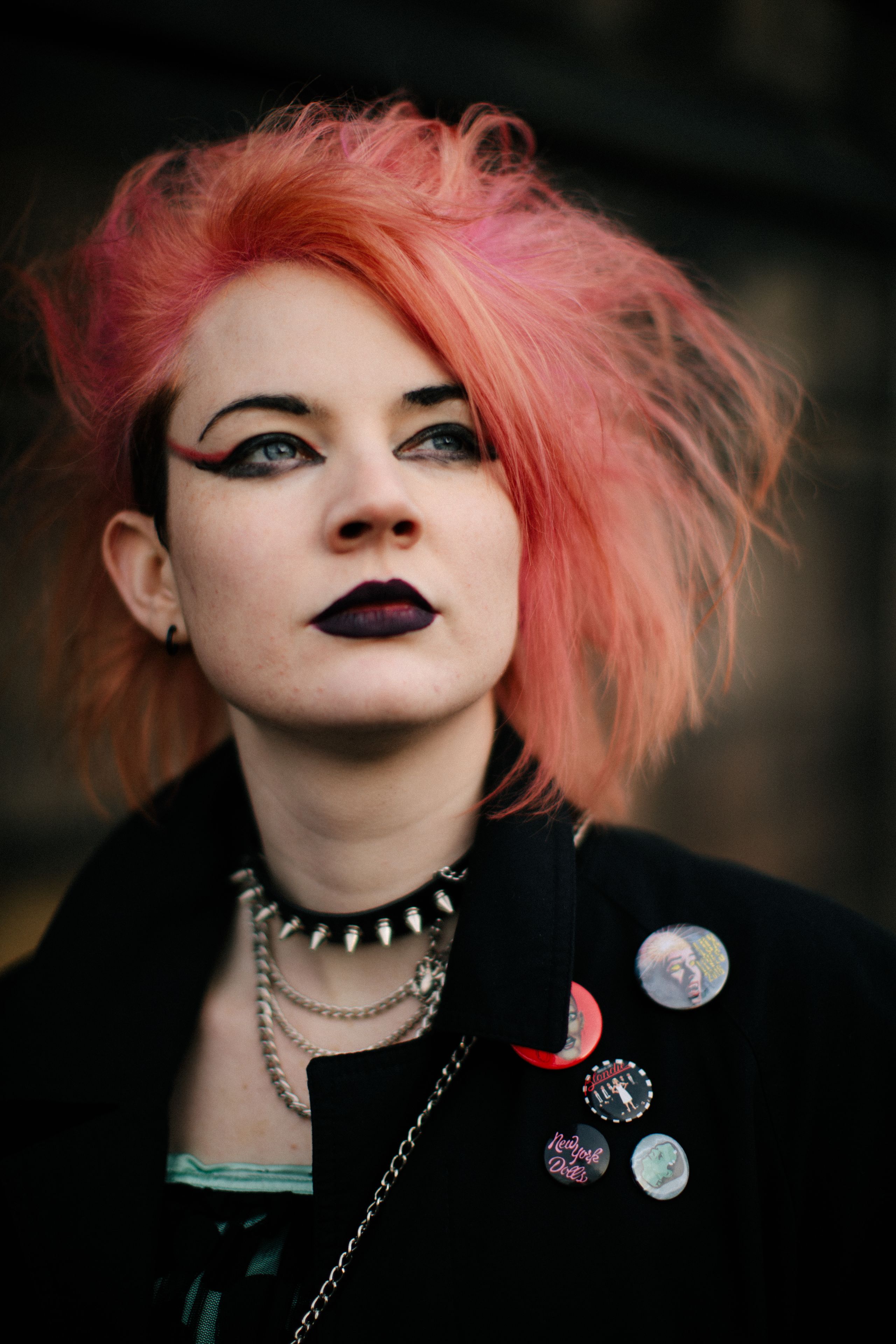 '[Being care experienced gives us] a rooted understanding of each other - before you even get to know each other you have a thing in common. It's not something we feel we need to share and talk about, but knowing it brings us a lot closer.'
'Being in the care system, it can really take a toll on you and I think you feel like you don't have the same ability to reach your goals like other people do. So coming in here and having no judgement off the bat from anyone, and have just the deeper understanding that we all have something like that, that we can relate with was good. Then opening up to these guys was so quick, because I knew I wasn't going to have any judgement from them, whereas in other places that part of me needs to keep shielded– not that I am ashamed of it - but I just didn't want that judgement and didn't feel that I could share anything. So it has been great.'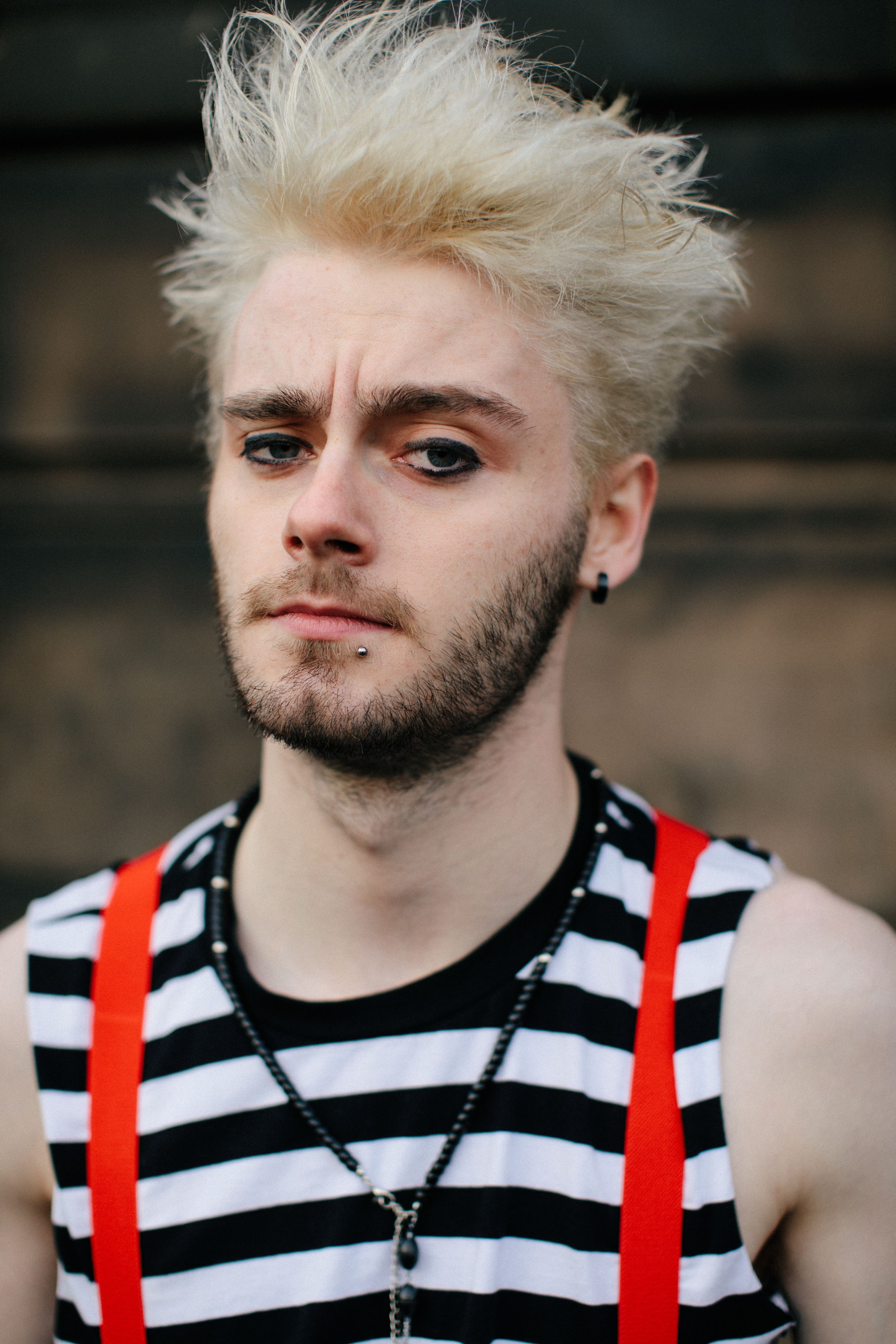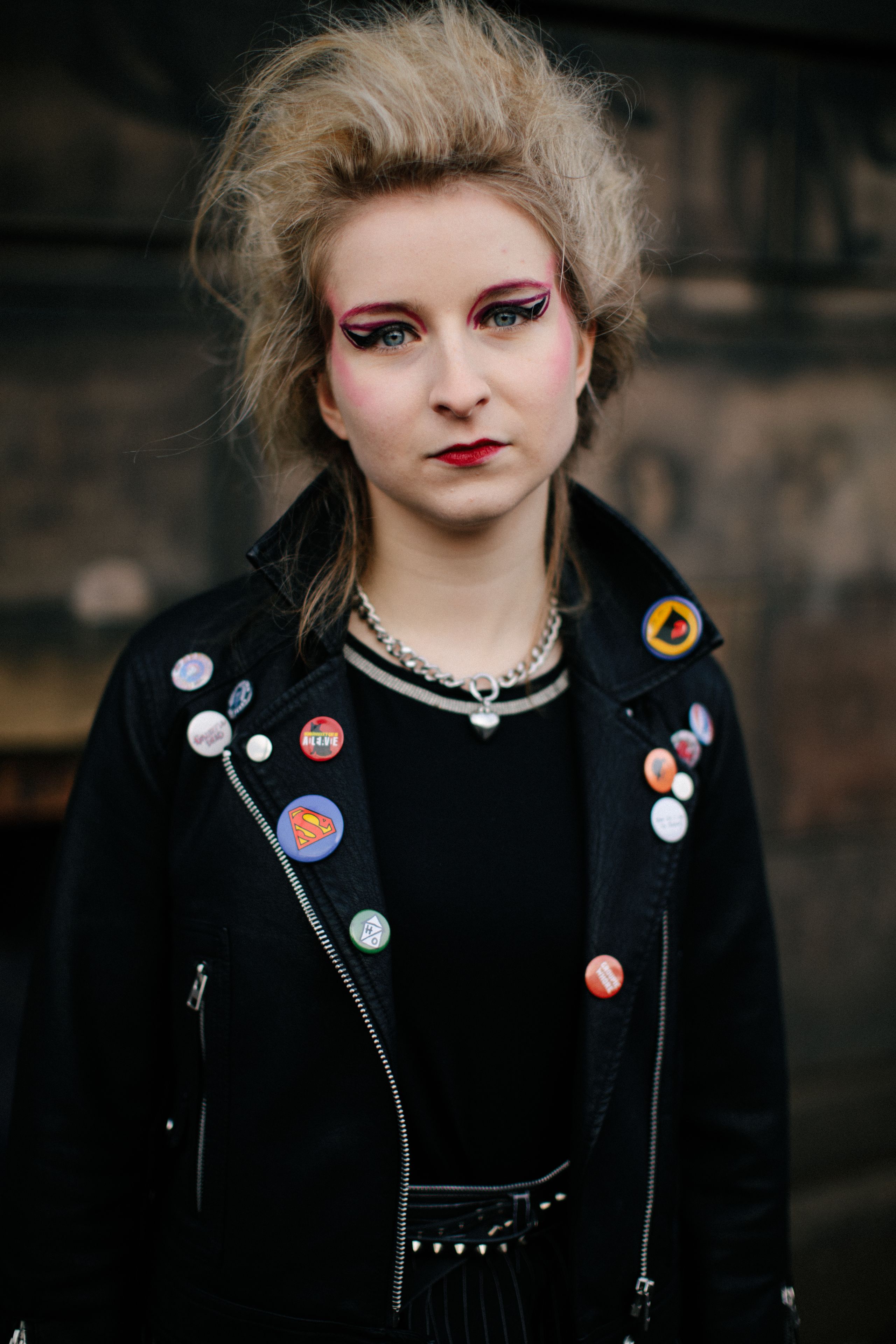 '.... that's not the only thing we have in common – we are all actors, we all love performing and we all love this play so we have other things that bond us as well. We don't feel like a group of care experienced actors, we are just a group of actors, like a theatre company. I do think that there are preconceived thoughts about people in care experience and I think some of that is to do with closed mindedness. I think a lot of the views people have of care experienced people is that we are just trouble makers, we are always involved with the police, the reason we were in care is because we are bad kids. But none of that is true - 99% of kids are put in care for their safety and protection, not because they are bad kids or anything like that and I think that having a group like this knocks those preconceptions away.'
'People have this perception of people who are care experienced as always being involved with the police or always out to wreak havoc. People still think we are these terrors but what's really great about WAC and about the Citizens is how seriously they take us as professionals. '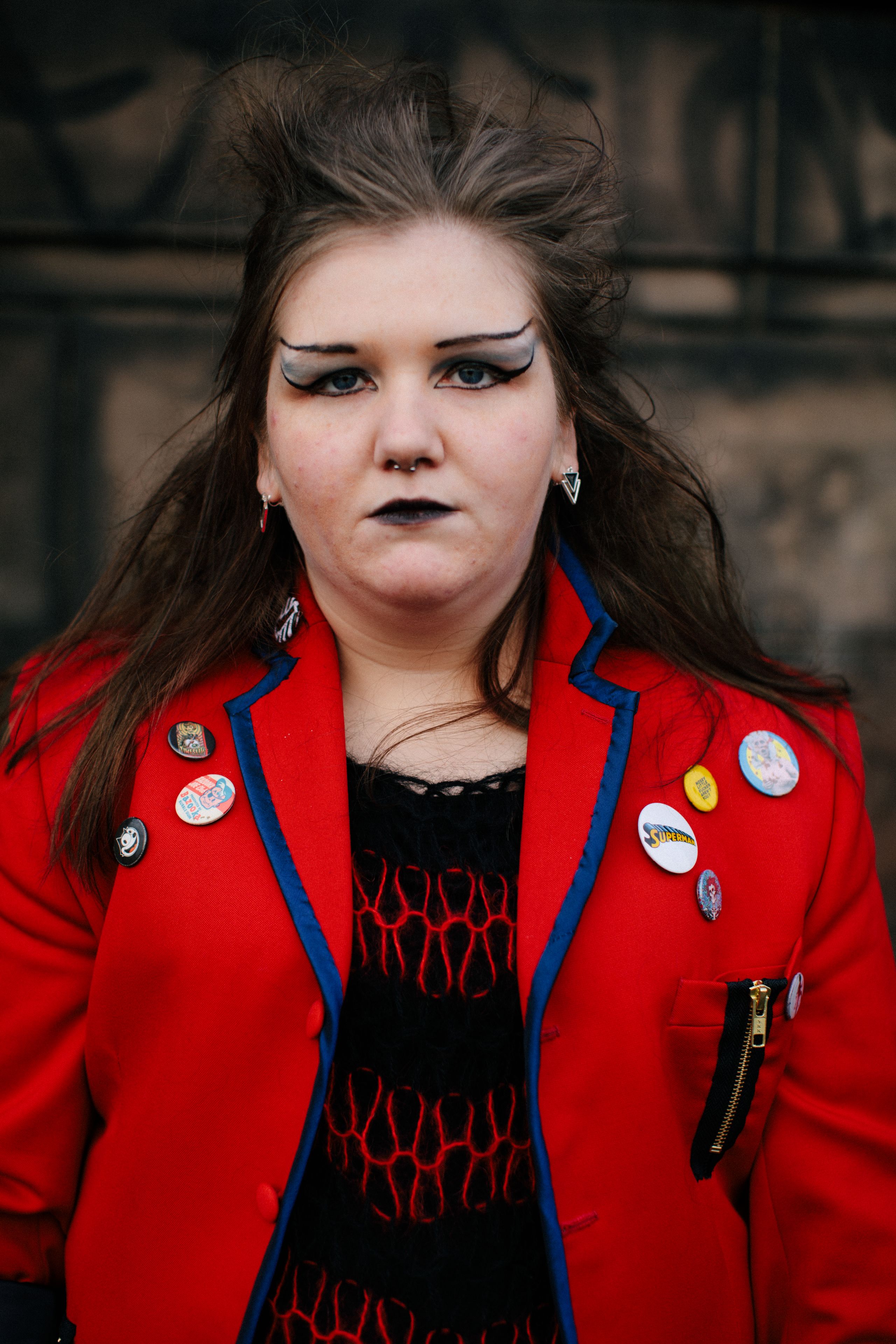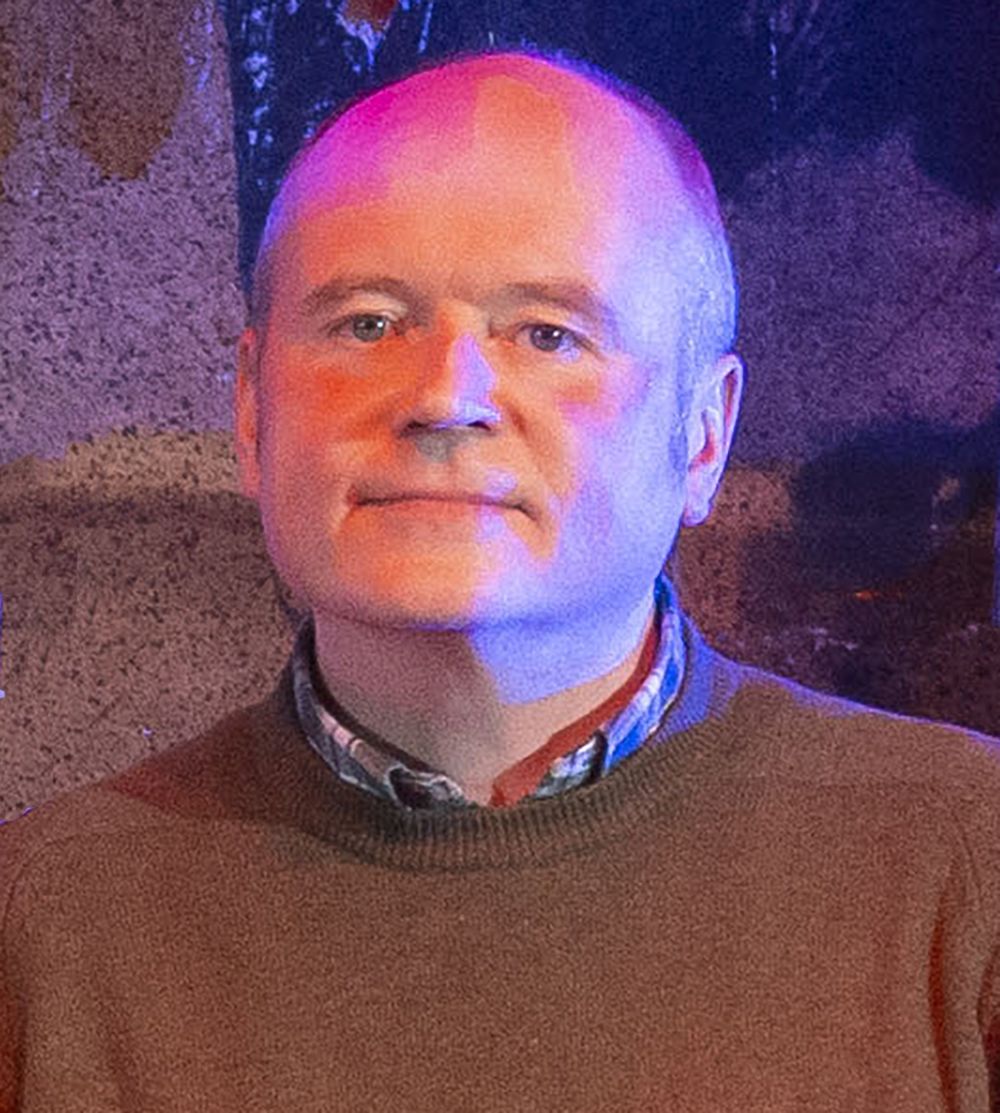 I think a lot of the time it is about confidence, because the young adults that we are working with are just so talented and so committed. It's really difficult to have a sustained career in the arts anyway, but if we can help young people to have the confidence to go for it then that would be great.
A'm gaun tae die stinkin rich. Gaun tae huv ma ashes blastit oot intae outer space in a gold rocket.
As the first night approached, social media began to buzz and traditional media followed suite. By the time of the press nights, Whatever happened to the Jaggy Nettles? and the WAC Ensemble were becoming something of a sensation, with Martin Travers declaring that this punk play:
"Could be a cult classic... like seeing The Clash for the first time"
Neil Cooper, Theatre critic for the Glasgow Herald wrote:
"Like the punks they're playing, however, the show's new wave of raw talent shouldn't care too much about any of that old-time stuff. As played out on Neil Haynes' wilfully scuzzy set and with music by Michael John McCarthy, for all the teenage kicks, there are more serious things afoot.
"With help from Martin Docherty and Helen McAlpine, this is what one might expect from a group formed by performers with a shared experience of the care system.
"But none of that matters here. Genna Allan, Rosie Graham, Shannon Lynch, Cameron Macleod, Andrew Marley, Kieran McKenzie, Allan Othieno and Chloe Wyper capture the heart and soul spirit of friendship, fights and fleeting moments of unity that helped define a generation's rites of passage. Year zero starts here."
The play was performed in the Brian Cox Studio of the Scottish Youth Theatre in Glasgow in February 2020, to sell-out audiences and to critical acclaim. Demand for tickets far-exceeded supply. The Saturday matinee was a special free performance for anyone with care experience and involved a Question and Answer session at the end with the cast and Martin Travers.
---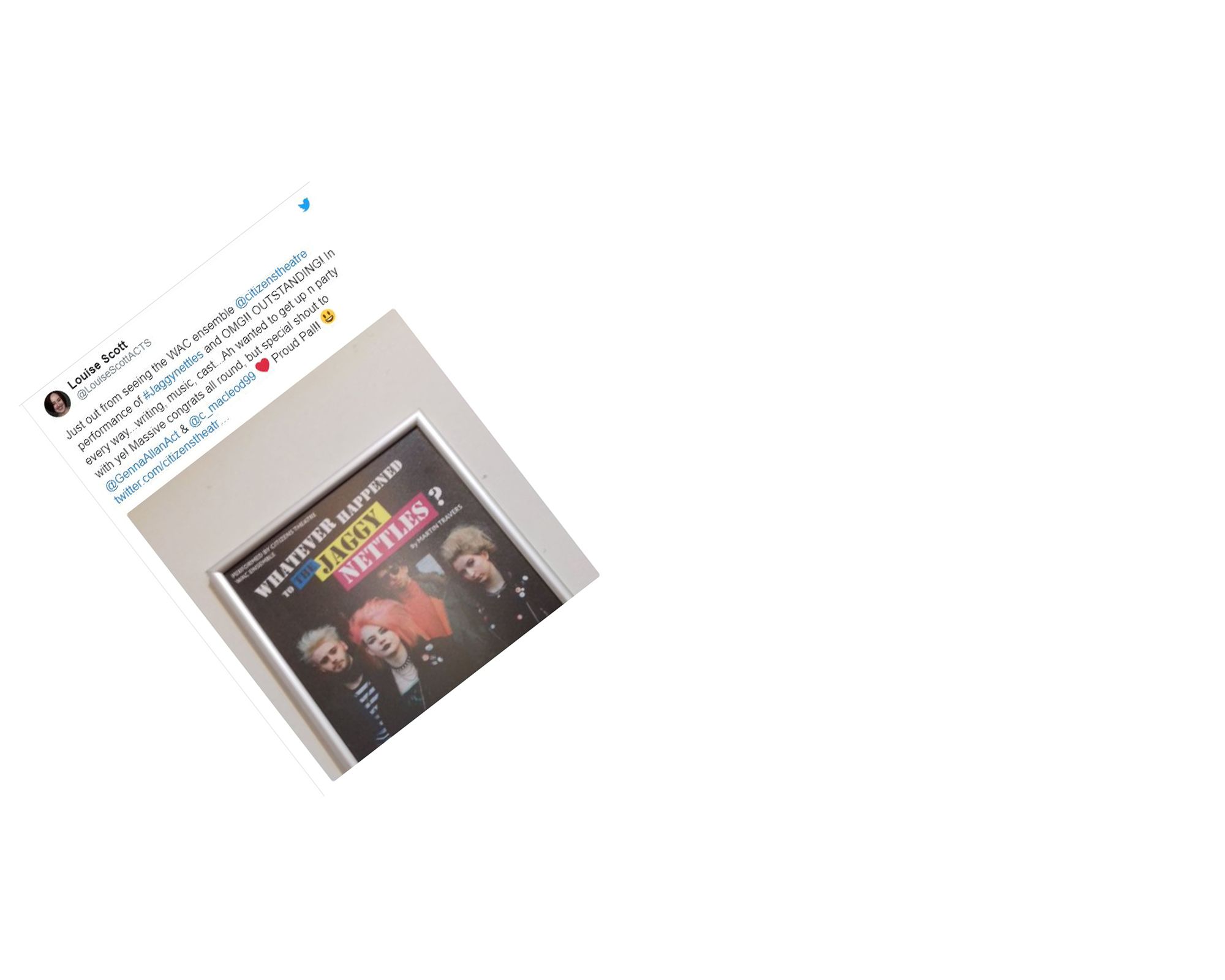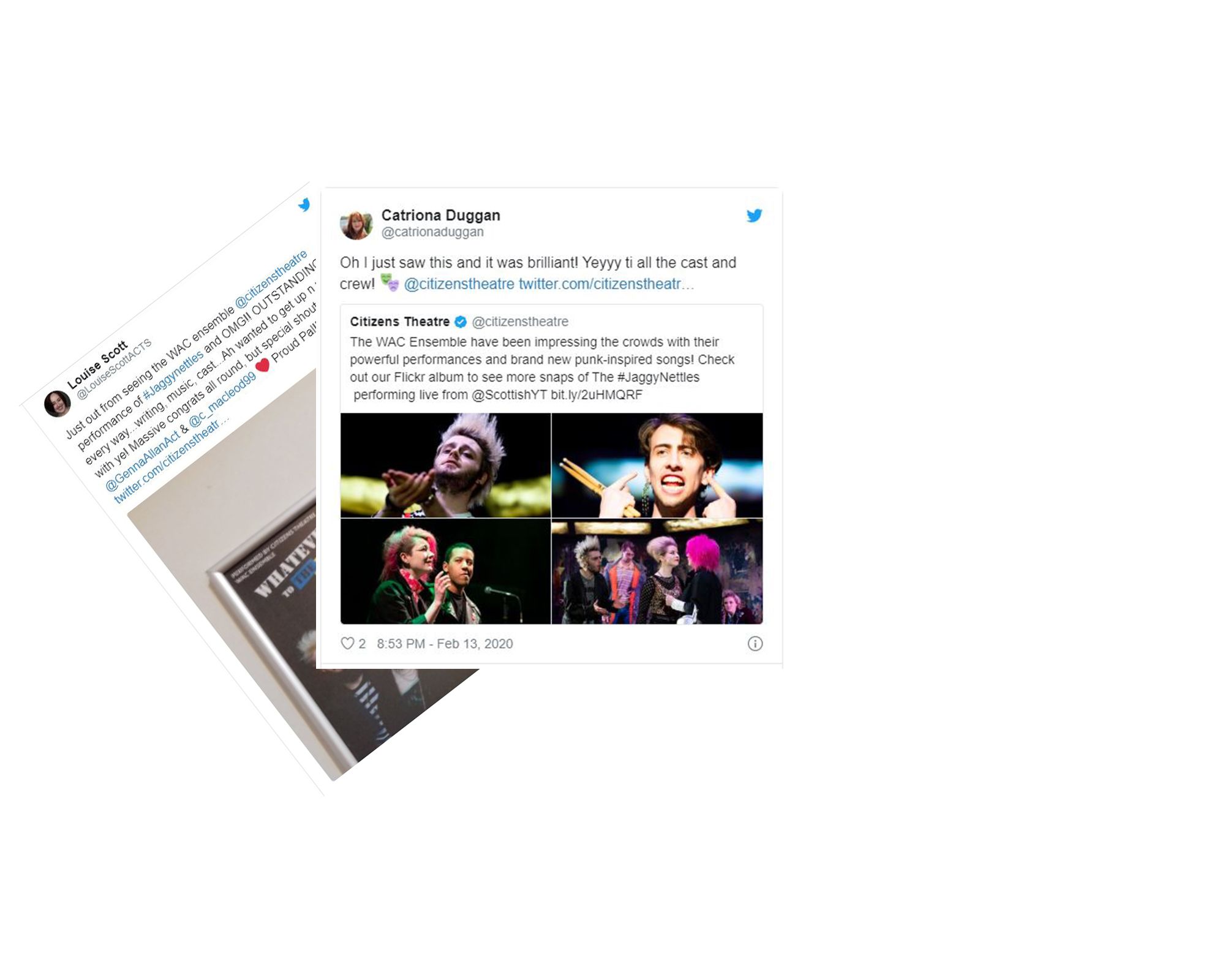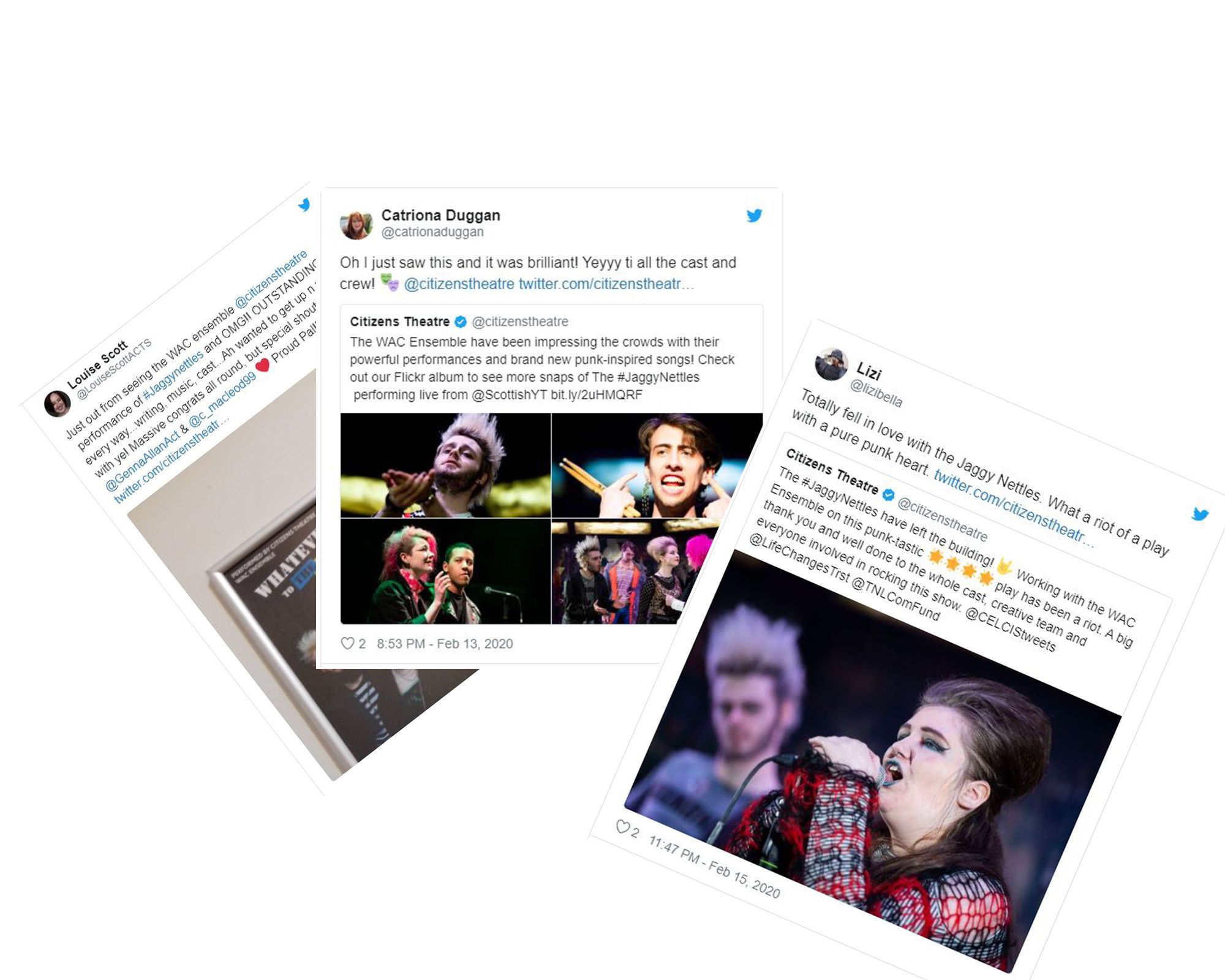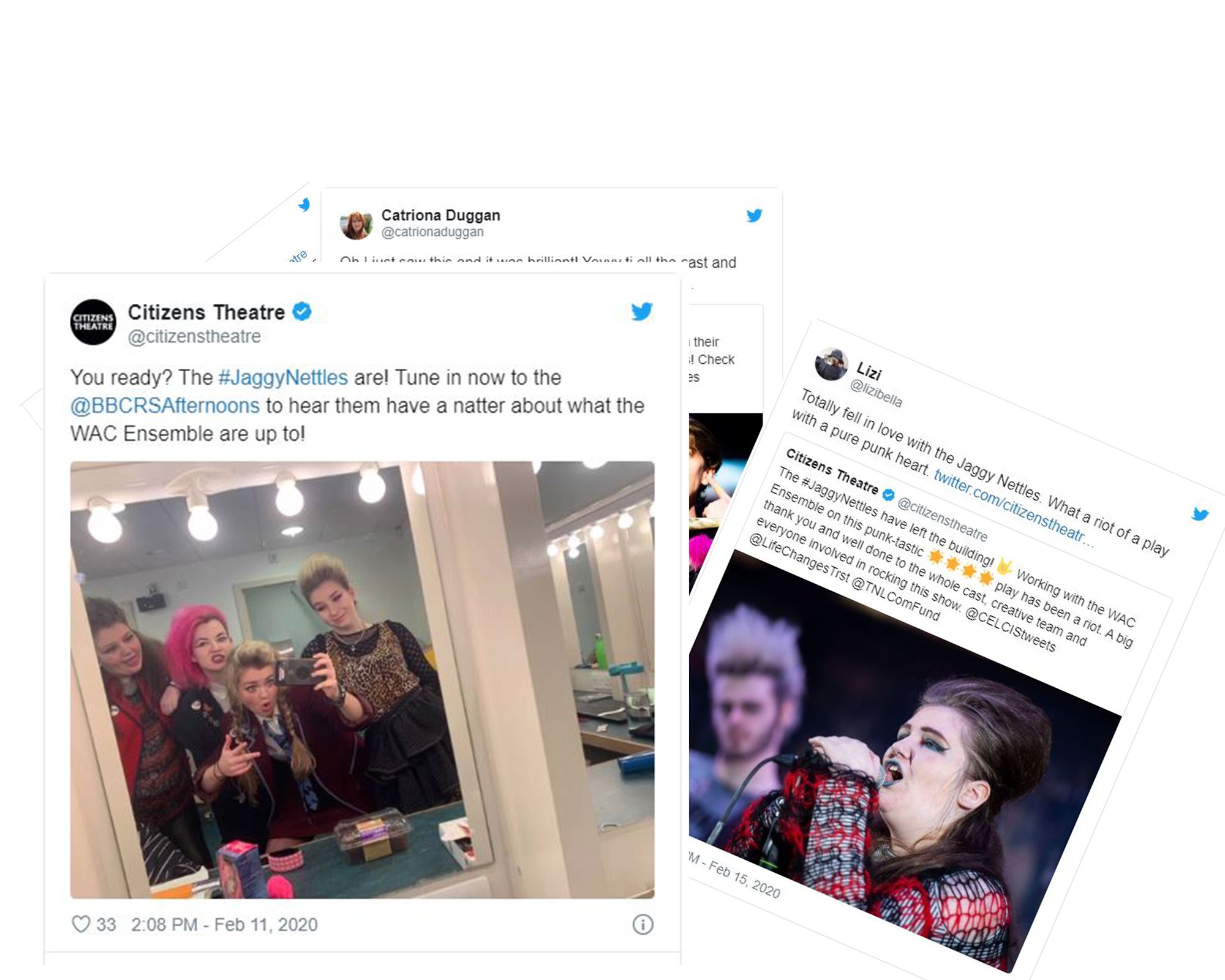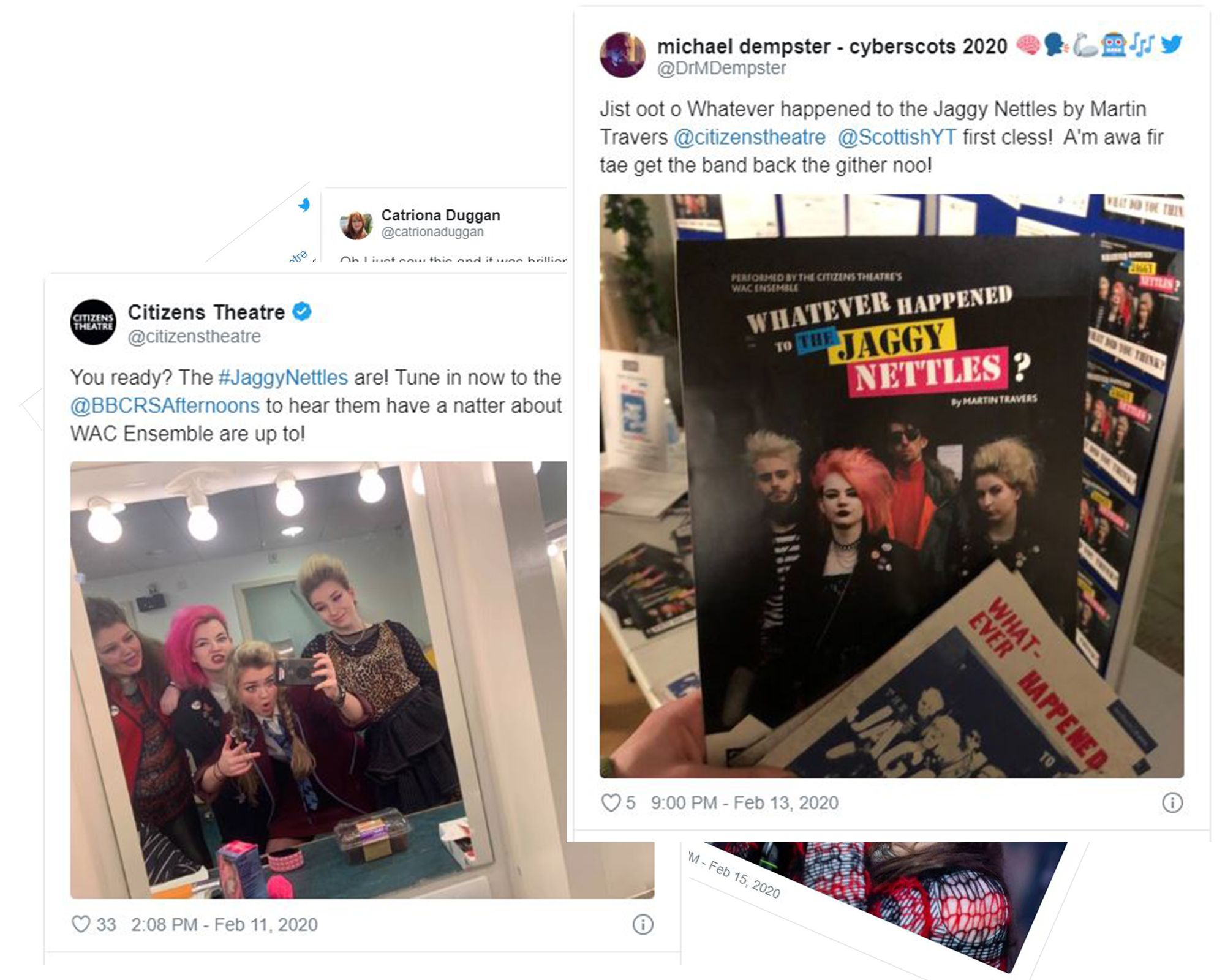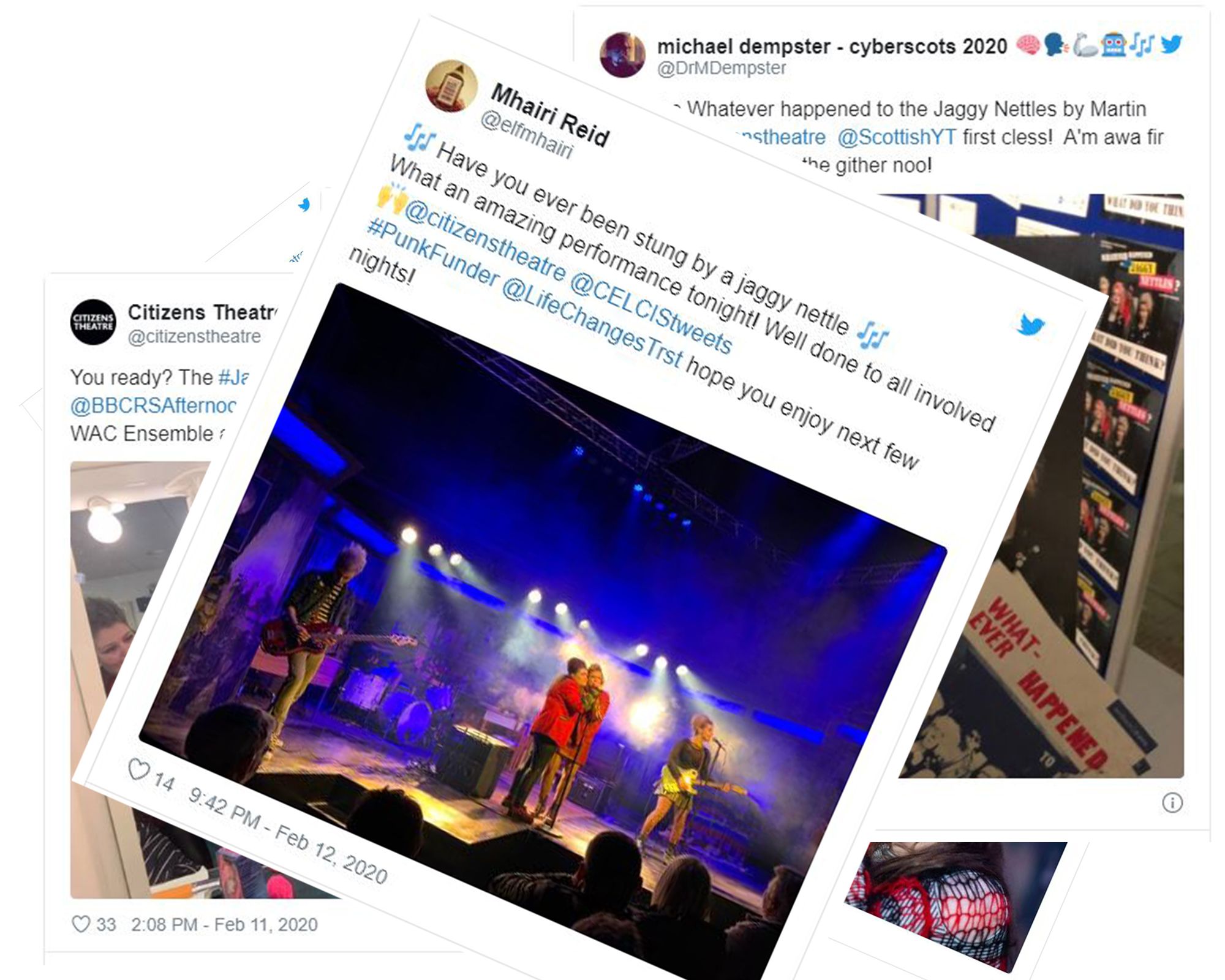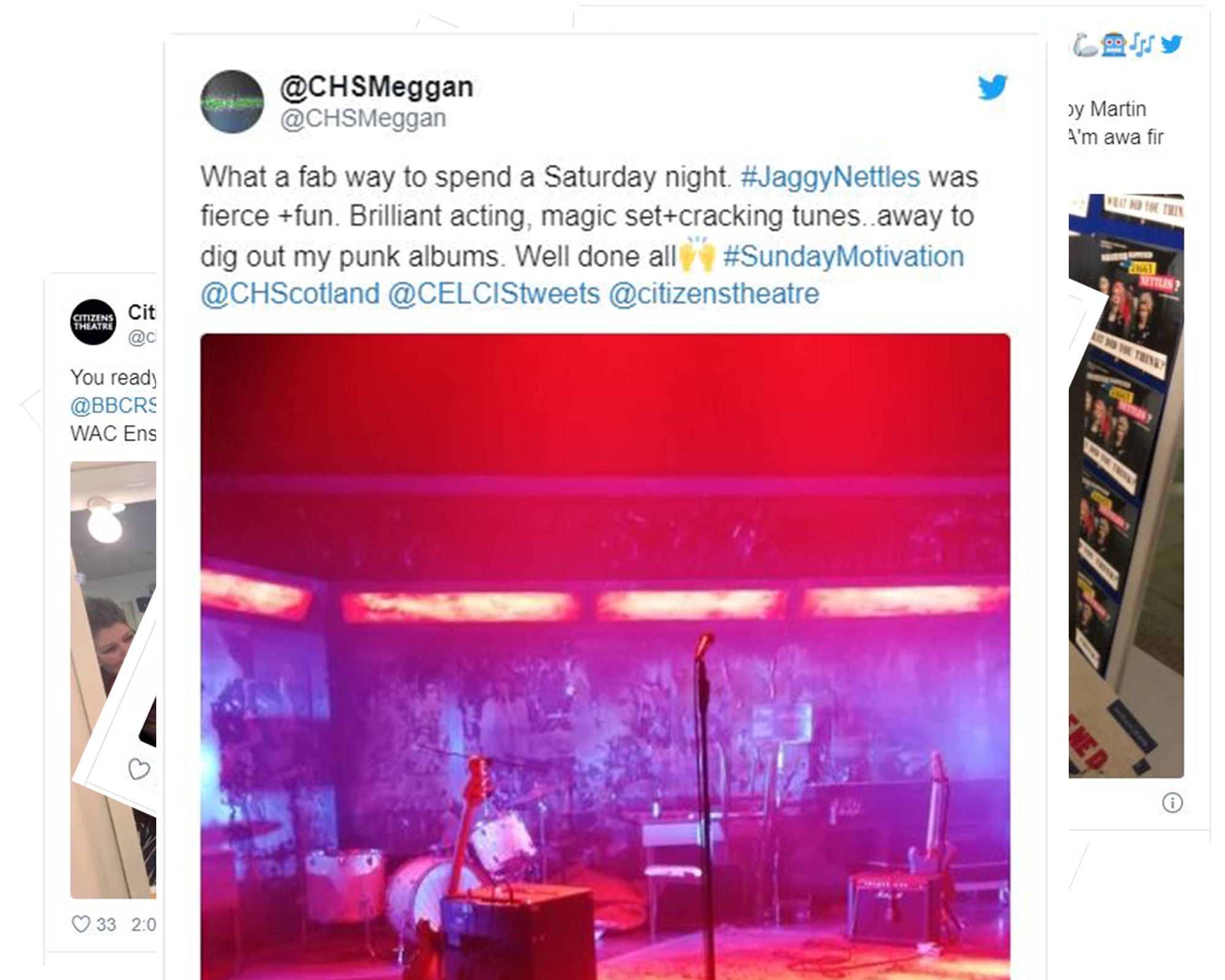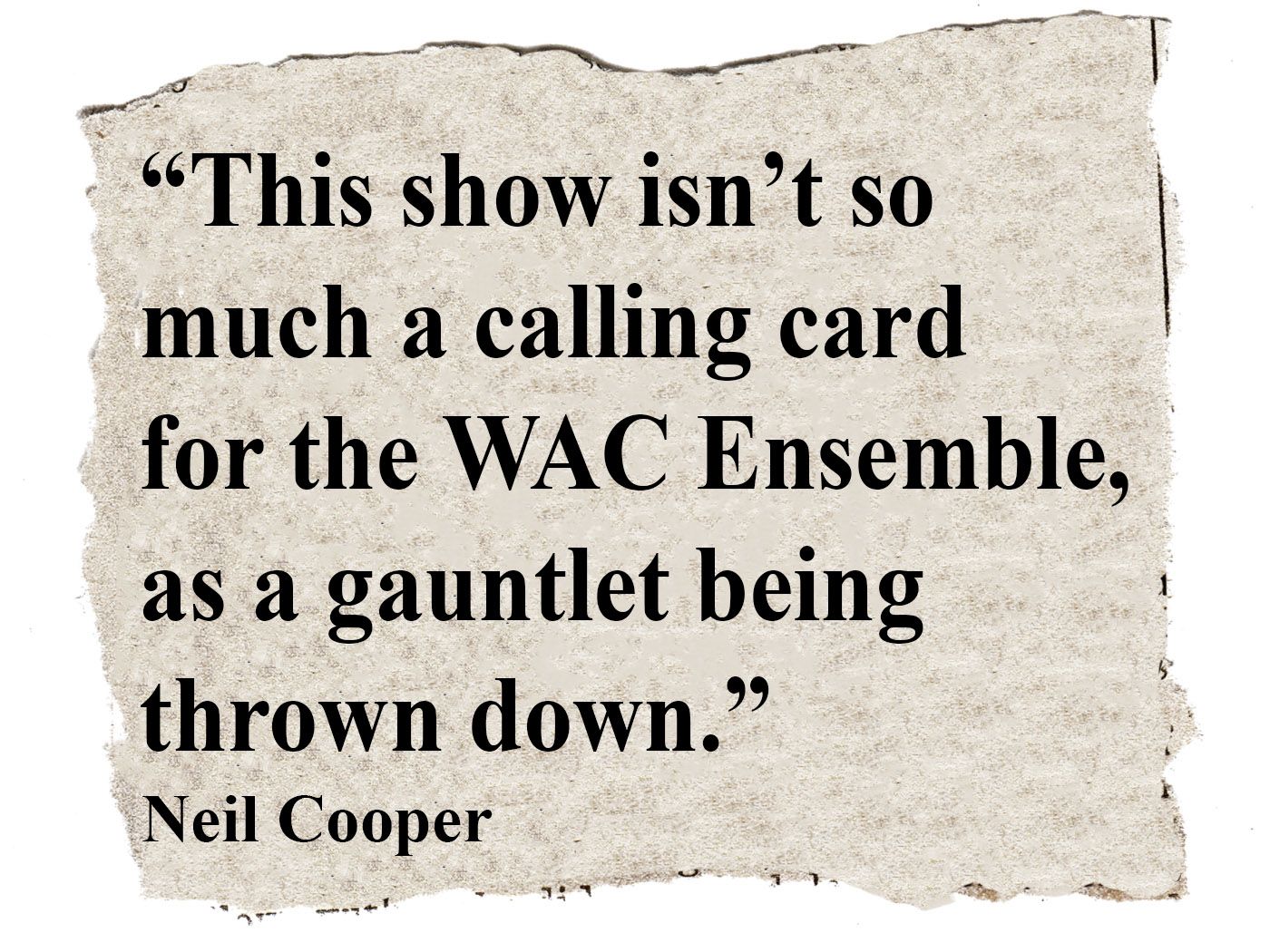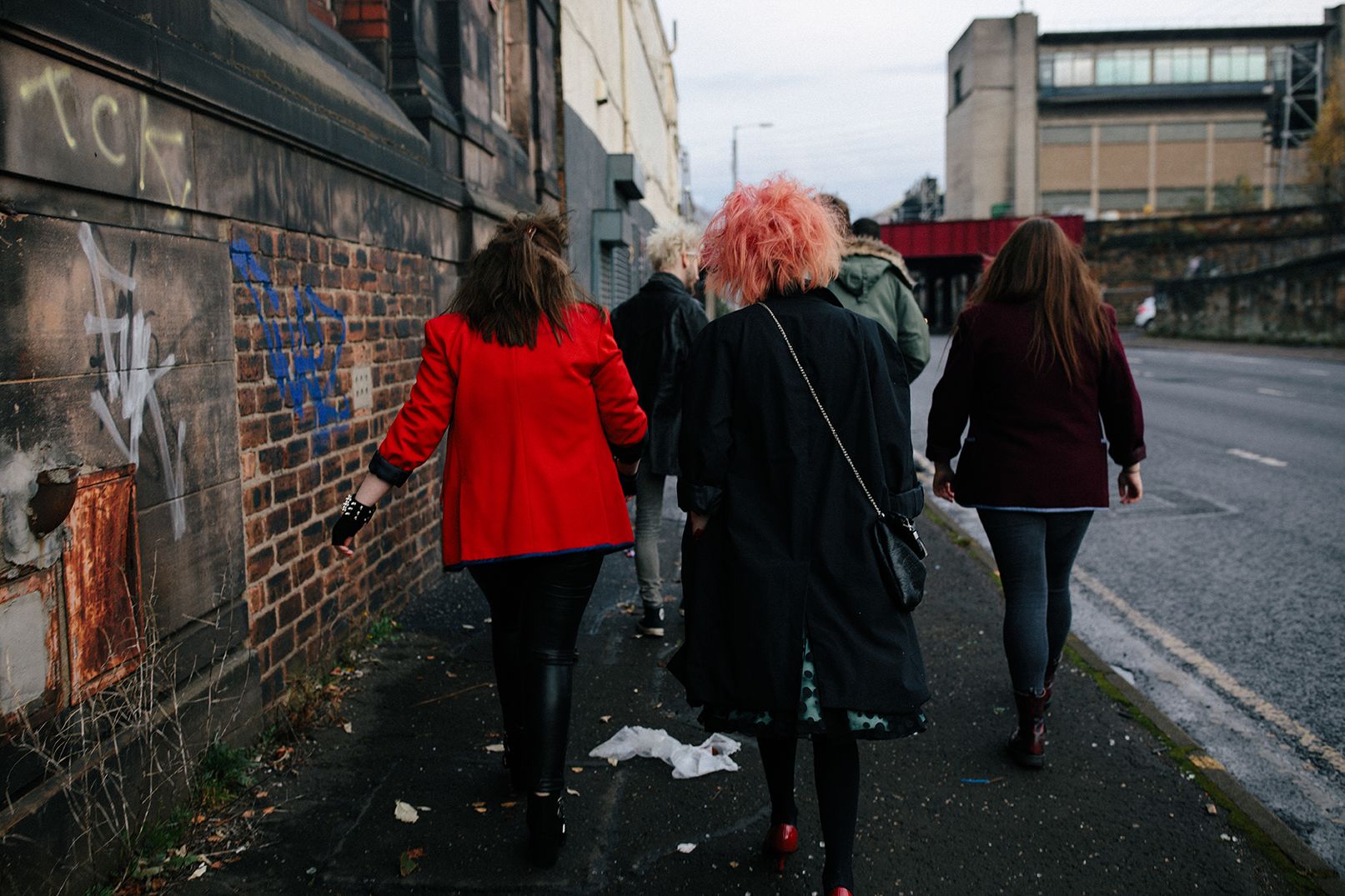 A snapshot of the evaluation of the WAC Ensemble initiative by CELCIS shows just how positive the experience was for all those involved.
Amazing what you can do in three hours!
A critical part of the success of the programme was how much fun was involved in the taster sessions – creating a fun, welcoming and inclusive space. While most of the young people who participated had some involvement in drama previously (either at college or school) or through 'Arts in the City' Glasgow City Council programme, the depth and quality of what could be explored with the professionals in the taster sessions and the workshops was really welcomed, one said: "I've learnt more this morning than I did on my (college) course".
Other participants agreed:
"Creative, good to get a taster of different aspects of theatre!"
"Super fun"
"Loved being part of an ensemble"
This helped to create  the level of engagement and positive attitude from the young actors when they were together in the workshops. In early 2019, weekly day-long sessions focused on developing performance skills and growing mutual within the new theatre company. The Citizens learning team worked with the young actors as solo performers, in pairs and as a whole groups. Early exercises were inspired by participants' observations of people in the outside 'real' world; and through this group work they were guided in the creation of new characters for the play - taking character questionnaires and writing monologues for them. 
"It's exciting and we can't wait for it to get pulled together"
The Citizens staff were impressed by the level of professionalism showed throughout the process, especially in the technical rehearsals. The fun and enjoyment in the rehearsals was shared by the whole production team and the young actors who joined the production spoke about how pleased they felt and how much they had enjoyed being welcomed into the company. One professional actor who worked with them in rehearsals said that this experience had given them a new and better view of care experienced young people and their lives.
Feedback from the audience showed that the enthusiasm shared on stage had well and truly transferred to everyone in the theatre:
'Excellent performances from everyone. Clearly very well researched and well thought out, each character was completely "in" the performance at all times and gave everything to it. The story was interesting, funny and heart-breaking in equal measure. Would love to see it again.'
'Brilliant.  Funny.   Original.  Uplifting.'  

           
'It was incredible. I am a care experienced young person myself. I loved every second of it. I have fallen in love with the cast. I can see friends, family and lovers in them all. I can see people I've known loved and lost and I can see the actors, every one of them in their characters. I'm somewhat disappointed I only bought two tickets.'
Identity is the overwhelming force here. The WAC ensemble, first and foremost, identify themselves as actors. Their care experience is part of their identity but it is not the reason they came together; it is their passion to be on the stage. The success of Jaggy Nettles has given them a new confidence, and a strong sense of pride in themselves. As one young WAC actor put it:
"I grew up in care for a very long time and I would never tell anyone I was in care because there's a stigma there and people would have a perception of you, so I wouldn't feel comfortable sharing that. But now I do, because I'm a care leaver and look how brilliant I am. Look how brilliant we all are. So it's really given me the confidence to say, this is who I am."



Shall we see the Jaggy Nettles again?

The momentum of the show and the actors seemed unstoppable. Sadly though, the COVID-19 lockdown prevented the planned revival at the Edinburgh Festival Fringe this year, which could have been a springboard for wider acclaim.

But all is not lost. The stage and costumes are carefully stored away, waiting.

More importantly, impressed by their talent and commitment, the Citizens Theatre have invited members of WAC to work with them in community drama events and on other productions.

The Citizens have also won some funding to work on other projects with the WAC ensemble.

This project, firstly to initiate care experienced young people into the arts and then to support them as they built their own theatre ensemble and then produced their first show, has undoubtedly been a creative success.

It has encouraged these care experienced young people to gain confidence, be proud of who they are, pursue their dreams, and let their voice be heard.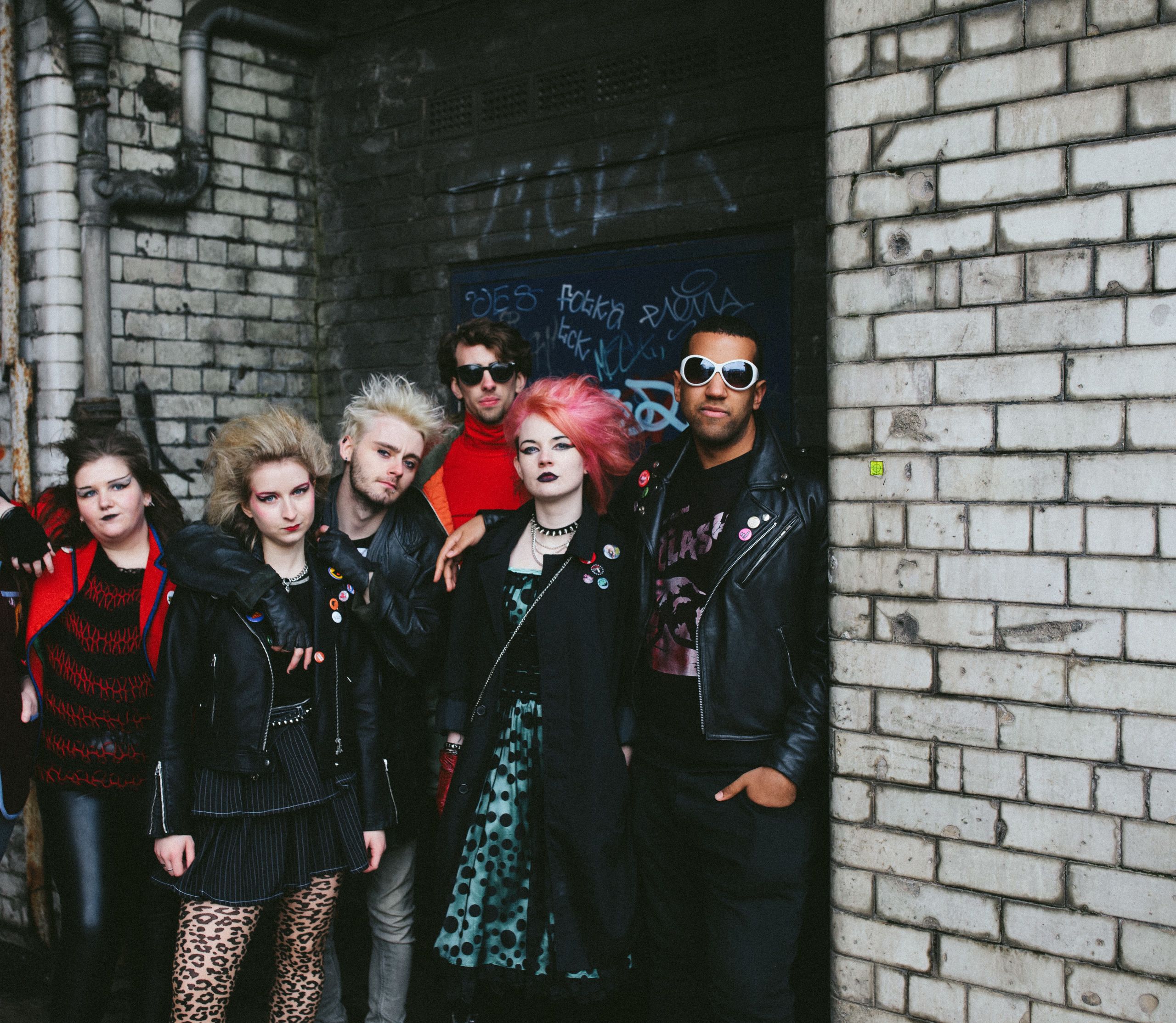 Pictures: Jassy Earl, Alex Brady, Tim Morozzo.
We would like to thank Martin Travers, Guy Hollands, Carly McCaig and all those at the Citizens Theatre, Glasgow for their help and support for this project.
We would like to thank the actors of the We Are Citizens Ensemble, Genna Allan, Rosie Graham, Shannon Lynch, Cameron Macleod, Andrew Marley, Kieran McKenzie, Allan Othieno and Chloe Wyper.
The script 'Whatever Happened to the Jaggy Nettles?' is available from Bloomsbury Publishing: https://www.bloomsbury.com/uk/whatever-happened-to-the-jaggy-nettles-9781350174412/
We would like to thank Neil Cooper and the Glasgow Herald for permission to use his work.
We would like to thank Bronwen Livingstone and BBC Scotland for permission to use her work.
We would like to thank all the young people who have been involved in this project and all those who have helped them.